Case Study - Audley Inglewood Retirement Village - Dreadnought Collingwood Blend Tiles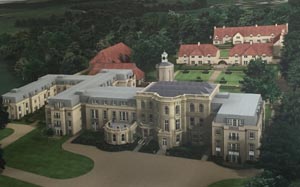 Audley Inglewood Retirement Village
Clay Roof Tiles - Dreadnought Collingwood blend sandfaced rooftiles
Architect - Gaunt Francis
Contractor - Wates Construction
Background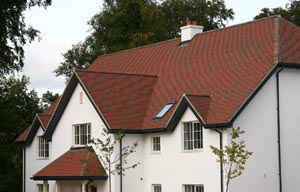 Set in countryside once owned by William the Conqueror, this new Audley luxury retirement village uses collingwood blend on the roofs of the cottages to blend in with their beautiful rural surroundings and complement the elegant central Manor House.
The roofs on both Lime Tree Court and Eton Mews are a big feature of the external envelope of this new luxury development. The steep roof elevations flow from one building to another above the rendered walls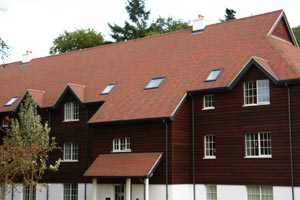 It was critical that the right rooftile was selected to add richness and quality to these new luxury homes . The architects, Gaunt Francis, share Dreadnoughts belief in the enhanced beauty imparted by the natural burnt colours of clay and were attracted to Dreadnought's wide colour range which is produced entirely by delicate control of the traditional burning process. This means that the colour is inherent within the tile, it will not fade, unlike artificial spray-on stains, but will last for future generations and become tomorrows heritage.
Solution
On why they chose these clay tiles, Audley Villages explains, "The standard of quality that Dreadnought Tiles provides was an ideal match for Audley where we aim to set the highest of standards in luxury retirement living". The subtle tones in Dreadnought's Collingwood blend tiles give depth and warmth to the prominent roofscape.
Audley have won a number of conservation awards for their buildings and are renowned for their high quality developments. Audley Inglewood won a Gold in the "What House?" Awards for Best Retirement Village.