Special Offers
These are all best quality products. The quantities shown are indicative as these can change quite rapidly.
Please contact us for exact prices as they will depend on the quantity required and the delivery address.
These special offer tiles are sold as seen on the basis of samples. The photographs here reflect the lighting & weather conditions at the time they were taken . To appreciate their appearance fully, please request samples from our sales office 01384 77405.
Prices quoted are ex Works and ex VAT and haulage is charged @ £17-32/1000 + VAT in minimum loads of 12,000 depending on the location in England and Wales, Scotland. POA
We currently have no special offer tiles in stock, but we will add them to this page if any should become available.
Fittings from stock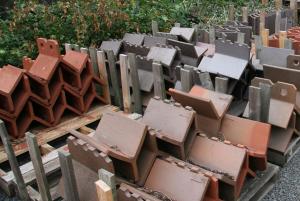 We have a large stock of ridges and ornamental ridges both 450mm and 300mm at our Works which are ideal for matching in and repairing old roofs. They are available for immediate despatch. Contact us for more information or come to the Works between 8.30 and 4pm to take a look.