Rustic dark heather
Dreadnought's dark heather colour is a predominantly blue colour with subtle shade variations of lighter blue and purple hues. These natural clay colours are derived by controlling the kiln atmosphere which converts the iron content of the clay to shades of blue and purple. Other manufacturers use applied stains and coloured sands to produce their colour, but at Dreadnought we believe in the beauty of true clay colour, achieved through careful control of the kiln atmosphere.
These tiles are an ideal choice where a sanded tile with some surface texture is required.
Case Studies
Lovedon Fields 50 houses on the edge of the South Downs National Park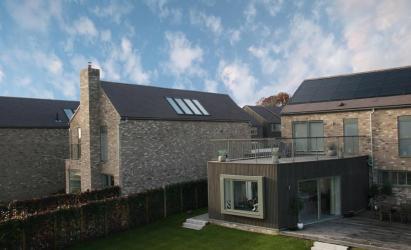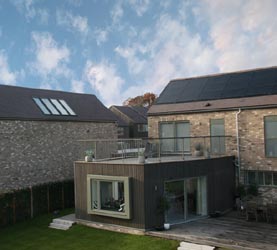 Just 2 miles from Winchester and on the edge of the South Downs National Park, this new development, winner of RIBA South Award 2022, needed to look modern and contemporary, but blend in with the sites beautiful rural surroundings. The selection of building materials was key to achieving this and rather than opting for red brick, typical of much of the new housing in the area, the design team opted for more mellow brown and buff brick to match the surrounding grass, hills and earth. Dreadnought's dark heather rustic roof tiles tone well with this subtle pallette of natural materials and their rustic texture suit the countryside location well. They also tone well with the solar panels, ensuring the panels do not dominate the appearance of the roofs while providing all the benefits of sustainability. Full details
Beautiful self build project nr Derby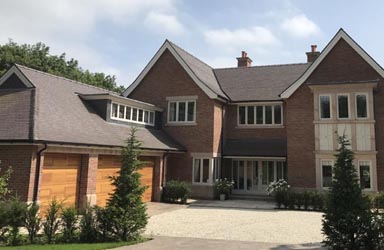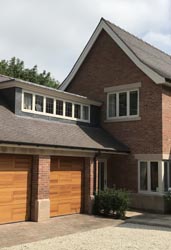 When it came to selecting materials for her self build project, Stephanie Snookes knew she wanted to use natural products. She had been fortunate to secure the perfect plot in a highly desirable village near to Derby and was keen to create as high quality a build as her budget would allow. The Dark Heather rustic tile blends beautfully with the multicoloured bricks and have contributed to a home with significant "wow factor". Full details
Technical Info
Dreadnought Tiles conform to BS EN 1304:2013 and should be fixed in accordance with BS 5534 "Slating and Tiling" part 1 & 2 and BS 8000 Part 6.


Freeze Thaw Standards require plain clay tiles for use in the U.K. to withstand at least 150 freeze / thaw cycles under method E of European Standard EN 539-2:2013. At Dreadnought Tiles we regard this as too low for our climate and we therefore test our tiles to withstand in excess of 400 cycles.
Download Freeze Thaw Testing Report
Download Specification sheet as a word doc
| | | | |
| --- | --- | --- | --- |
| | Tiles | Eaves | Gable |
| Size | 265x 165 mm | 215x 165 mm | 265 x 248 mm |
| Weight | 1.19 kg | 0.95 kg | 1.8 kg |
| Pattern | Traditional Single Camber | | |
| Material | Etruria Marl | Etruria Marl | Etruria Marl |
Pitched Roofs
Vertical
Minimum Lap
65 mm
32 mm
Maximum Gauge
100 mm
115 mm
Minimum Gauge
88mm
88mm
Approx Weight at
Maximum Gauge
71 kg/m2
63 kg/m2
Nails
38 x 2.65 mm alloy
38 x 2.65 mm alloy
Battens
38 x 25 mm
38 x 25 mm
Minimum Pitch
35 degree
Quantity Guide
| | |
| --- | --- |
| Tiles @ 100mm Gauge | 60m2 |
| 115mm Gauge | 53m2 |
| Eaves/Tops | 6/lineal metre |
| Gable (Tile and Half) | 5/lineal metre of verge |
| Hips and Valleys | 10/lineal metre of main rafter |
| Ridges | Supplied in 300 mm and 450 mm lengths |
Relevant Fixing Standards
| | |
| --- | --- |
| BS 5534 2014 | Code of Practice for Slating and Tiling |
| BS 8000-6.2013 | Workmanship on Building Sites |
| BS EN 1991-1-4:2005+A1:2010 | UK National Annex to Eurocode 1 -Actions on Structures - Part 1-4: General actions - wind actions |
Environmental Info
Place of Manufacture: Brierley Hill, UK
Environmental Management: ISO 14001 Download Certificate
Quality Management: ISO 9001 Download Certificate
Life Cycle: BRE 'A+' rating
Freeze Thaw Testing to in excess of 400 cycles Download Freeze Thaw Test Certificate
Energy: Fired in gas kilns to 1130 degrees
Raw materials: Etruria Marl Clay from our local quarry in Brierley Hill, sand
Lifespan: > 60 years. Second hand tiles that have been on roofs in excess of 100 years often sell for more than new tiles on the 2nd hand market
Recyclability: Can be crushed and used as aggregate and/or as an inert bulk fill
Packaging: We keep packaging to a minimum using wooden pallets. We do not shrink wrap or use plastic straps.
Find out more about Dreadnought Tiles approach to sustainability
Roof Components
BIM
Dreadnought BIM Objects
Request Sample
Rustic Handcrafted Sample Request Form