Self build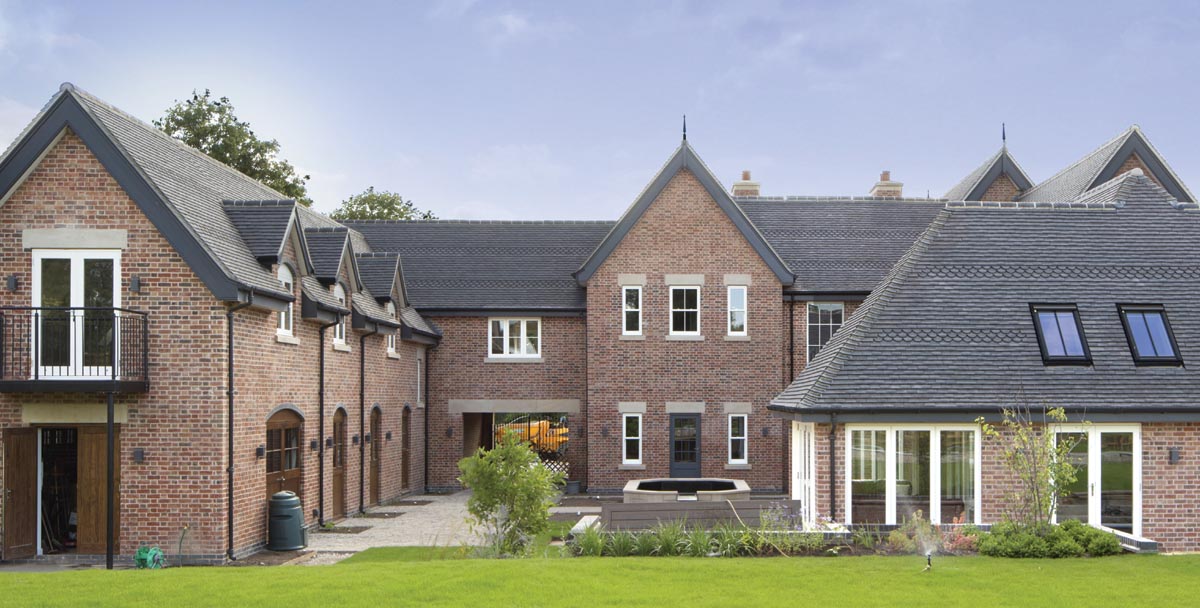 Your choice of building materials for your home has a substantial impact on the eventual value of your property. It is advisable where possible to choose the best, especially as they will be in place for the life of the building and will be there for the world to see.

A quality roof of plain clay tiles is an inexpensive way to add character and value forever. Look around and see for yourself that the concrete tiles of the last 70 years lose their colour. The natural burnt colours of clay are permanent and mellow and improve with age.

Never skimp on the roof materials. Whether you are building from scratch, converting or extending your property or renovating your family home, Dreadnought clay roof tiles offer solutions to enhance any roof.
If you wish to see some completed Dreadnought roofs please contact our office and we can provide you with a list of sites in the colours you are interested in.
See a detailed case study in IBUILD magazine
See our Self Build Case Studies
Useful links for Self Builders
NaCSBA
We support the Custom and Selfbuild industry in the UK and are members of NaCSBA, the National Custom and Self Build Association. Make sure you sign up to the Right To Build Portal There is a duty on all local authorities in England to keep a Register of individuals and community groups who have expressed an interest in acquiring land to bring forward self-build and custom-build projects and to have regard to the demand on their local Register when exercising their planning and other relevant functions.
An up-to-date source of plots conversion and renovation opportunities for Developers throughout the UK, including development flats (more than 4). Includes email alerts for new plots and aerial photography service.
Traditional Clay Pavers, Staffordshire Blue Bricks and Specials.
An independent family-run brick manufacturer, specialising in the production of traditional pressed, clamp and handmade facing bricks and pavers.
Many builders and self-builders have found that using handmade bricks has greatly increased the 'kerb appeal' of their developments. York Handmade Brick offer bricks in six blends, but variations can be achieved by mixing combinations of the three basic colours.
A source of information for architects, contractors and specifiers. They host an extensive UK Building Directory
Dreadnought are members of the National Federation of Roofing Contractors Limited (NFRC) the UK's largest roofing trade association. They provide advice on choosing a roofing contractor.
The UK's largest self and custom build project just outside Bicester. 1900 homes are due to be built over 10 years. The project aims to give self builders the opportunity to create the home of their dreams with plots available to suit a range of budgets, all with pre-approved outline planning.
Where to view tile displays
Self build exhibitions
We regularly exhibit at the Self-Build Exhibitions. Come and see us at the Southern Homebuilding and Renovating Show on Stand S845 at Sandown Park 1st and 2nd July 2023 and for free tickets, click on the link below.

You can also find us at the National Self Build & Renovation Centre in Swindon where we have a permanent stand. The centre is also open everyday except Mondays.
To view completed roofs please contact us and we can provide you with a list of sites in the colours you are interested in.
If you would like to order samples of tiles, you can do so on this website from each of our product pages within the tile range or by clicking here
Below is a list of Roofing Merchants where sample panels of Dreadnought Tiles can be viewed. Some of these merchants also carry stock of our tiles.

Tiles can also be viewed at our Works in bulk, contact us to book a visit
County

Address

Do they stock Dreadnoughts?

Telephone

Avon

EDS Roofing Supplies
153 South Liberty Lane
Bristol
BS3 2TL


0117 963 8057

Roofbase Bristol
Avonside Industrial Estate
Units 15 & 16
Feeder Road
Bristol
BS2 OUQ


0117 2034123

Berkshire

Anderson Roofing Supplies
Unit 1 Warren Farm
Forest Road
Wokingham
Wokingham
RG40 5QY

01189 786468

Buckinghamshire

Advance Roofing Supplies Ltd
Airfield Industrial Estate
Cheddington Lane
Long Marston
HP23 44QR

01296 660 260

D J Giles
20-22 Mill Road
Stokenchurch
HP14 3TT

Yes
Red Smooth, Brown Heather, Country Brown Sandfaced, Staffs Blue Smooth, Collingwood Blend


01494 482396

Cheshire

Lagan Building Solutions
NLH
Newcastle Road
Chorlton
Crewe
CW2 5NG

https://www.lbsproducts.com/clay-roof-tiles/plain-clay-tiles/dreadnought-tiles

Yes
Staffordshire Blue Smooth, Brown Antique Smooth, Brown Heather Sandfaced, Country Brown Sandfaced

They also stock a range of our commercial tiles

0800 096 7612

Derbyshire

Ashbrook Roofing
Harrison Way
Darley Dale
Matlock
Derbyshire
DE4 2LF
www.ashbrookroofing.co.uk

Yes
Staffordshire Blue Smooth and Red Smooth


01629 732988

Brown's Builders Merchants
Chequers Road
West Meadows Industrial Estate
Derby
DE21 6EN

Yes
Staffordshire Blue Smooth and Red Smooth


01332 292911

Dorset

Kavanagh Roofing
Longmead Industrial Estate
Shaftesbury
Dorset
SP7 8PL

01747 853635

Roofing Gear
Unit O & P
Lion Works
543 Wallisdown Road
Poole
BH12 5AD

Yes
Country Brown Smooth, Red Blue Smooth and Blue Brindle

01202 143940

East Sussex

Chandlers Building Supplies
The Broyle
Ringmer
East Sussex
BN8 5NP

South Coast Roofing Supplies
Daveys Lane
Lewes
BN7 2BQQ


01273 488 888

Edinburgh

Jewson
58 Craigentinny Avenue North
Edinburgh
Midlothian
EH6 7LI


0131 554 1144

Gloucestershire

Willis Westcott Stroud
Daniels Industrial Estate
Units 16 and 17
Bath Road
Stroud
GL5 3TJ

01453 796997

Hampshire

Burton Roofing Merchants Ltd
Brickfield Lane
Chandlers Ford
Eastleigh
Southampton
Hampshire
SO53 4DP
www.burtonroofing.co.uk

Yes
Brown Brindle

02380 339393

Formertons
Forton Works,
First Avenue
Millbrook Trading Estate
Southampton
Hampshire
SO15 0LG

02380 365555

Elliott Brothers
Millbank Street
Northam
Hampshire
SO14 5AG

02380 226852

The Clay Clay
Sarum House
55 High Street
PO35 5SR

07836761541

Brickmongers (Wessex ) Ltd
Frith Farm
Frith Lane
Fareham
PO17 5AW

01329 830012

Herefordshire

SIG Roofing Hereford
Unit 17C Thorn Business Park
Rotherwas Industrial Estate
Hereford
HR2 6JT


01432 273084

Hertfordshire

E H Smith
Pudds Cross
Ley Hill Road
Bovingdon
Hemel Hempstead
Hertfordshire
HP3 0NW

01442 833888

Lancashire

Builders Supplies (West Coast) Ltd
Kilbane Street
Fleetwood
Lancashire
FY7 7PF

01253 776600

Leicestershire

William Hercock Ltd
Dalby Road
Melton Mowbray
Leicestershire
LE13 0BL

01664 500947

London

Deben Buildbase
Oakleigh Road South
New Southgate
London
N11 1HJ

0208 3613637

All Type Roofing Supplies
Various branches

Yes
Staffordshire Blue Smooth
Order online at

https://alltyperoofing.com/shop/clay-roof-tiles/clay-plain-roof-tiles

02080386597

Travis Perkins
10-15 Garrett Street
London
EC1Y 0TY

0870 5005500

Oxford

Country Roofing Supplies
Timbers Farm
Timbers Lane
Henley on Thames
RG9 5SY

Yes
Red Blue Smooth and Country Brown Sandfaced
https://www.countryroofingsupplies.co.uk/

01491 641024

Nottinghamshire

John A Stephens
Castle Meadow Road
Nottingham
Nottinghamshire
NG2 1AG

0115 9412861

Rinus Roofing Supplies
Brunel Court
Brunel Drive
Newark
NG24 2EG
www.rinusroofingsupplies.co.uk


01636 702174

Shropshire

Bryan Price Roofing Supplies
Church Farm House
Shrewsbury
Shropshire
SY5 9PZ

01743 821588

SIG Roofing Telford
Trench Lock 3
Sommerfield Road
Trench
Hadley
Telford
TF1 5ST

01952 641161

Somerset

Roofing Gear
Unit 6 Yeobridge Trade Park
Flushing Meadow
Sherborne Road
Yeovil
Somerset
BA21 5DL

01935 700425

Bradfords
96 Hendford Hill
Yeovil
Somerset
BA20 2QT

01935 423311

Jennings Roofing Supplies
Unit C & D Allerton Road
Bridgewater
Somerset
TA6 4DN

01278 459000

South Yorkshire

Rinus Roofing Supplies Ltd
Unit 2,Claywheels Lane
Sheffield
S6 1LZ

0114 234 5669

Staffordshire

Capital Roofing Centre
Unit 1 Salem Street
Stoke-On-Trent
ST1 5PR

Yes
Staffordshire Blue Smooth and Sandfaced, Dark Heather, Blue Brindle and Brown Antique Sandfaced

01782 287515

Surrey

Chandlers Roofing Supplies
Unit 1, Business Park 8
Barnett Wood Lane,
Leatherhead,
KT22 7DG


01372 885388

Chandlers Roofing Supplies
Unit 2, Riverway Industrial Estate
Peasmarsh
Guildford
GU3 1LZ

Yes
Brown Heather

https://www.chandlersroofing.co.uk/branches/guildford-roofing

01483 610016

Warwickshire

Chandlers Coventry
312 Old Church Road
Coventry
CV6 7DU

024 7699 6333

West Midlands

Birmingham Roofing Supplies
Unit 2 Roma Road Industrial Estate
Roma road
Tyseley
Birmingham
B11 2JH

Yes
Red Smooth

0121 766 6330

Chandlers Building Supplies
91 Mucklow Hill
Halesowen
B62 8DR

Yes
Staffordshire Blue Smooth and Brown Antique Smooth


0121 314 1333