Blue brindle/dark heather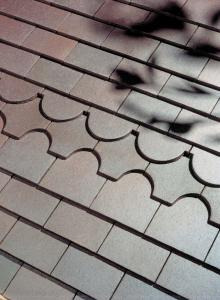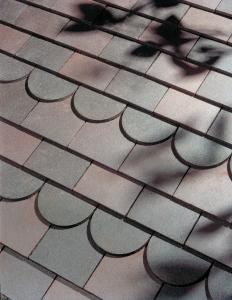 Blue Brindle and Dark Heather clay tiles are a predominantly blue colour, with subtle shade differences of lighter blue and purple hues.
Available in Smoothfaced/Sandfaced
Case Studies
Traditional materials for modern newbuild
Blue Brindle Plain Clay Roof Tiles

Simon Kettle is a Chartered Building Surveyor with a passion for building and sustainability. His own home, built from locally sourced green oak uses passive solar and ventilation design to minimise energy use. It is set within a 6 acre plot in rural Cheshire and one of Simon's key objectives was to create a sustainable building that would blend into its surroundings and look as though it was always meant to be there. "It's the little details that make all the difference, "he explains. "I wanted to create a traditional look and so using traditional materials was absolutely key. I chose Furness Brick's Chapel blend which we laid in a Flemish bond to expose more of the variety of colours in the brick and tie it in with the natural blue shades of the blue brindle clay roof tile. It's a very subtle effect that you wouldn't necessarily notice but it all adds to the final look of the house." Full Details
Anjulita Court, Winner Best Clay Roof NFRC Awards 2010
Blue Brindle Plain Clay Roof Tiles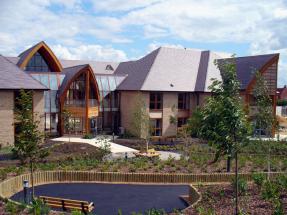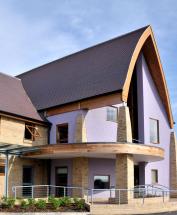 Anjulita Court is a 60 bed Elderly and Dementia Care Home in Bedford. Architect Khosro Bashi at the Tooley Foster Partnership wanted to design the building as a landmark, but at the same time integrate the Care Home with the community. It was also important to him to minimize the environmental impact of the building and use British made products with the right sustainability credentials. Khosro Bashi explained, "we looked at a number of different roofing materials. We chose clay because we wanted honest materials with genuine colours." Full Details
Jackfield, Ironbridge, World Heritage site
Blue Brindle Plain Clay Roof Tiles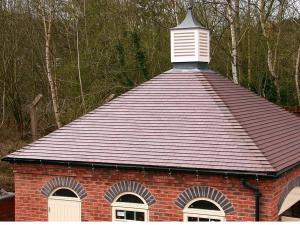 This housing development is adjoining the Jackfield Tile Museum in the Severn Gorge Conservation area and World Heritage site, an area sometimes known as the "birthplace of industry". It is on a site that was a plain clay tile works dating back to the 16th Century and local planning dictated that the tiles used on this development should be in keeping with the shape and colour of those that had been made here.
The challenge was to find genuine Blue Brindle tiles rather than modern reproductions bearing the name Staffordshire Blue, but which are in fact artificially coloured. Full Details
Tortworth Court Hotel
Blue Brindle Plain Clay Roof Tiles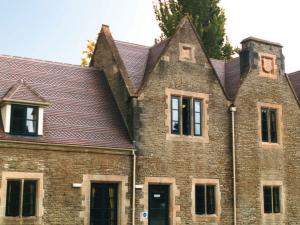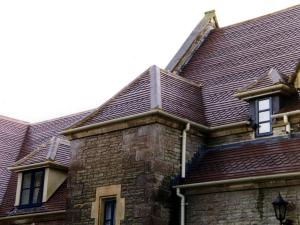 The Tortworth Court Hotel project was a combination of Refurbishment and New Build work. One of the major challenges was to find a tile that would sympathetically blend with the existing tiles on this listed Vistorian mansion. The result was so successful that it is difficult to tell which buildings are actually new! Full Details
Private House Poole
Blue Brindle Plain Clay Roof Tiles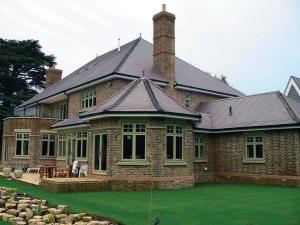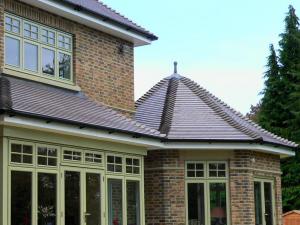 This award winning project clearly demonstrates the versatility of Plain Tiles and their capacity for enabling roofing details to be included such as the staggered outline provided by bonnet hips, the gentle curve of change of pitch of a sprocket and the features and shadows formed by the introduction of dormer windows, differing roof levels and ornamental banding. Full details
Straw Bales House, Cockermouth
Dark Heather Plain Clay Roof Tiles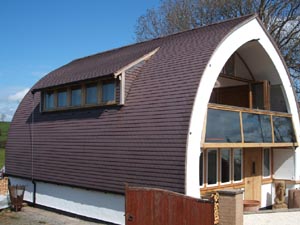 Engineer Brian Waite is a man on a mission ­ a mission to convert people to the merits of houses made from straw. It's not as daft as it sounds given he's utilised his own patented construction method to build a two-storey home that's virtually zero energy with a neglible carbon footprint. Full Details
Church Reroof Shropshire
Dark Heather Plain Clay Tiles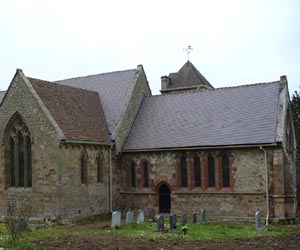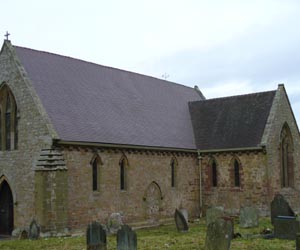 St Mary's Church in Acton Burnell is a 13th century church, listed as one of the best 1000 churches in England. The renovation of its roof was part funded by English Heritage and involved sourcing new tiles for the nave and chancel to match the existing clay tiles on the vestry. Main contractors Phillips and Curry from Oswestry chose Dreadnought's Dark Heather sandfaced tiles and their natural clay colour blends in well with the existing roof.
Tesco Supermarket, New Malden
Blue Brindle Plain Clay Roof Tiles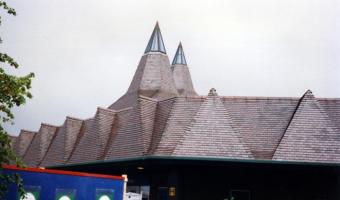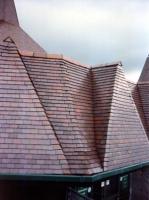 Tescos extended this store which had a most unusual and dramatic roofscape containing a series of steep dormer features along the perimeter and three tall spires, all tiled in Rosemary blue brindle tiles. It was discovered that these Rosemary tiles were no longer manufactured. Dreadnought's Blue Brindle Tiles proved to be a perfect match and they were also able to produce the bespoke spire hips and handed dormer hips to match the originals. Full details
Technical Info
Dreadnought Tiles conform to BS EN 1304:2013 and should be fixed in accordance with BS 5534 "Slating and Tiling" part 1 & 2 and BS 8000 Part 6.


Freeze Thaw Standards require plain clay tiles for use in the U.K. to withstand at least 150 freeze / thaw cycles under method E of European Standard EN 539-2:2013. At Dreadnought Tiles we regard this as too low for our climate and we therefore test our tiles to withstand in excess of 400 cycles.
Download Freeze Thaw Testing Report
Download Specification sheet as a word doc
| | | | |
| --- | --- | --- | --- |
| | Tiles | Eaves | Gable |
| Size | 265x 165 mm | 215x 165 mm | 265 x 248 mm |
| Weight | 1.19 kg | 0.95 kg | 1.8 kg |
| Pattern | Traditional Single Camber | | |
| Material | Etruria Marl | Etruria Marl | Etruria Marl |
Pitched Roofs
Vertical
Minimum Lap
65 mm
32 mm
Maximum Gauge
100 mm
115 mm
Minimum Gauge
88mm
88mm
Approx Weight at
Maximum Gauge
71 kg/m2
63 kg/m2
Nails
38 x 2.65 mm alloy
38 x 2.65 mm alloy
Battens
38 x 25 mm
38 x 25 mm
Minimum Pitch
35 degree
Quantity Guide
| | |
| --- | --- |
| Tiles @ 100mm Gauge | 60m2 |
| 115mm Gauge | 53m2 |
| Eaves/Tops | 6/lineal metre |
| Gable (Tile and Half) | 5/lineal metre of verge |
| Hips and Valleys | 10/lineal metre of main rafter |
| Ridges | Supplied in 300 mm and 450 mm lengths |
Relevant Fixing Standards
| | |
| --- | --- |
| BS 5534 2014 | Code of Practice for Slating and Tiling |
| BS 8000-6.2013 | Workmanship on Building Sites |
| BS EN 1991-1-4:2005+A1:2010 | UK National Annex to Eurocode 1 -Actions on Structures - Part 1-4: General actions - wind actions |
Environmental Info
Place of Manufacture: Brierley Hill, UK
Environmental Management: ISO 14001 Download Certificate
Quality Management: ISO 9001 Download Certificate
Life Cycle: BRE 'A+' rating
Freeze Thaw Testing to in excess of 400 cycles Download Freeze Thaw Test Certificate >>
Energy: Fired in gas kilns to 1130 degrees
Raw materials: Etruria Marl Clay from our local quarry in Brierley Hill, sand
Lifespan: > 60 years. Second hand tiles that have been on roofs in excess of 100 years often sell for more than new tiles on the 2nd hand market
Recyclability: Can be crushed and used as aggregate and/or as an inert bulk fill
Packaging: We keep packaging to a minimum using wooden pallets. We do not shrink wrap or use plastic straps.
Find out more about Dreadnought Tiles approach to sustainability
Roof Components
BIM
Dreadnought BIM Objects
Request Sample
Machine-Made Sample Request Form