Smoothfaced/
Sandfaced
This colour has the depth and subtlety of a true blue clay colour which can provide an effective contrast to light coloured stone and brick work. It is deeper and darker than the Blue Brindle and Dark Heather.

Some companies produce a dark tile by the application of a spray on surface stain, however the Dreadnought range of genuine traditional blue clay colours, with their natural shade variations are obtained through the careful control of the kiln atmosphere that converts the iron content of the clay to blue in the manner of Staffordshire Blue bricks. A skilled process established by generations of brick and tile makers which is unique to the Dreadnought Factory.
This tile works equally well for contemporary roofs as it does for heritage roofs. A church reroof with Staffordshire blue smooth tiles won the Best Heritage Roof Award at the 2018 Pitched Roofing Awards

This staffordshire blue clay roof tile offers an alternative to natural slate with the potential to incorporate ornamental elements in the roof.
Case Studies
Clean lines for contemporary newbuilds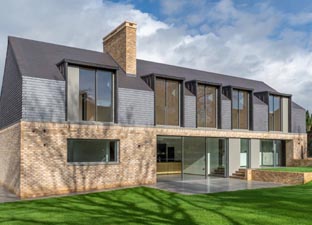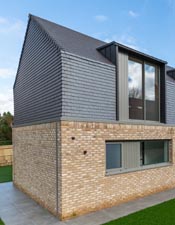 Using quality building materials and a simple minimalist design with incredible attention to detail, Sabatini Homes have created 2 highly contemporary, beautiful homes. Careful planning and design has meant that no mortar has been used on either roof so they will require no maintenance over time, and have been built to last for generations to come. Full details>>
A Grand Design at graven hill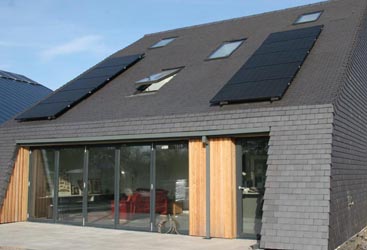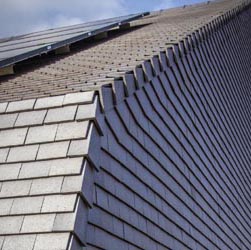 Lynn Pratt is one of the pioneering self-builders at Graven Hill, a large self build homes development in Bicester and her project featured on Channel 4's Grand Designs The Street. Designed by Adrian James Architects, Lynn's house is highly contemporary and individual with Staffordshire Blue plain clay roof tiles cladding the exterior of the house from the roof all the way down to the ground. The edges are handled neatly by the use of cloaked verges and mansard tiles make the transition from the roof to the walls. Full details>>
New roof for St Mary's Bushbury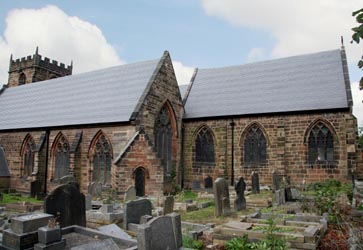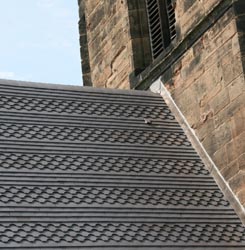 Winner of Best Heritage Roof at the 2018 Pitched Roofing Awards this complex reroof of a Grade II* church has alternating four-course bands of plain and fishtail tiles in Dreadnought's Staffordshire Blue. Architect Bryan Martin wanted to match the originals that were fitted back in the 1850's as closely as possible and he felt that the original tiles came from a similar source, and may have even been Dreadnoughts. A total of 14,250 fishtail tiles and 32,000 plain Staffordshire Blue Smooth tiles were used as well as 2 matching bat tiles (one is just visible in the RH image above) and approx. 140 300mm angle ridges. Full details>>
Restoration of Lye & Wollascote Cemetery Chapels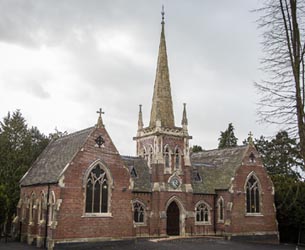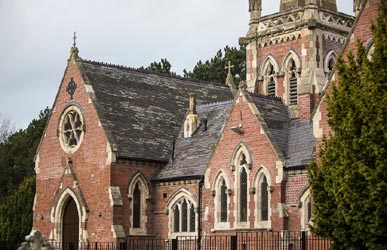 Winner of a 2019 Victorian Society Conservation Award , this historically important gothic brick building was at risk until it was renovated by the West Midlands Historic Buildings Trust in conjunction with Dudley Council. The 2 chapels had been derelict for some time and were considered an eyesore. The new scheme designed by Brownhill Hayward Brown, conservation architects has transformed the Chapels into one building now known as the Thomas Robinson Building and Stourbridge Registry Office. The work was meticulously carried out by Croft Building & Conservation who used Dreadnought Staffordshire blue plain and ornamental spade tiles together with slotted ridges and bespoke ornamental ridge inserts to restore the roof. Full details>>
A selfbuild in the cotwolds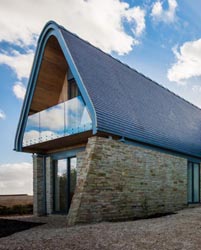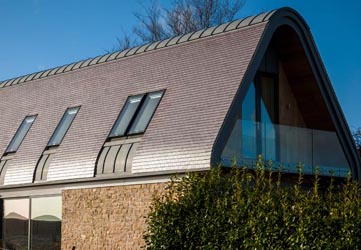 Right on the edge of an elevated village in the Cotswold Area of Outstanding Natural Beauty, this beautiful contemporary self build, designed by architect Adrian James, uses high quality building materials, stone, Staffordshire blue smooth clay tiles, and zinc to achieve a barn-like aesthetic. The new building sits very comfortably in its surroundings and despite a tight budget, the money was spent on quality building materials to create the right finish Full details >>
From Derelict Farm Buildings to family home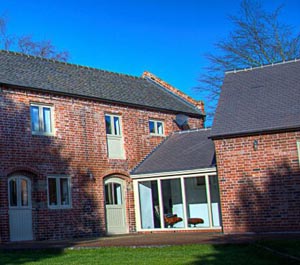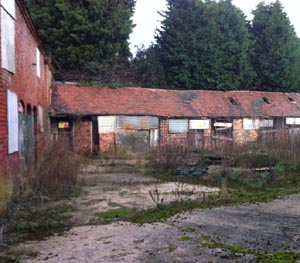 Renovating an old barn and a collection of derelict farm buildings required very careful materials selection and the owner/architects reused as many of the old materials as possible. Dreadnought's staffordshire blue sandfaced tiles were chosen for the new single storey building as they provided a great colour match to the old handmade tiles that were reused on the renovated 2 storey barn. Full details>>
Cumnor Hill - winner of architectural merit award at clay roofing awards
Staffordshire Blue Plain Clay Roof Tiles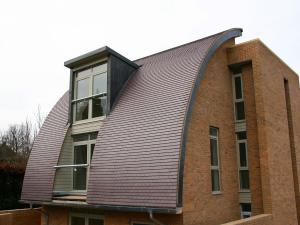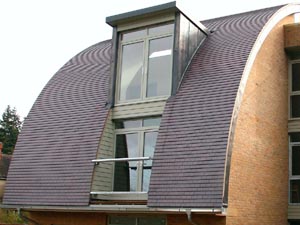 This project demonstrates very well the use of a traditional product in a contemporary design, producing a fantastic overall result. Full Details >>
PRivate house, bedworth
Staffordshire Blue Plain Clay Roof Tiles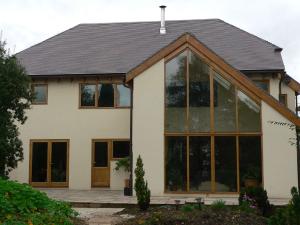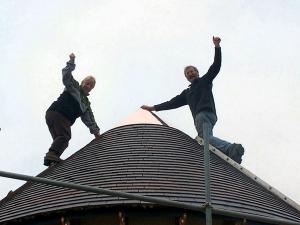 As authentic a self build project as you will ever find! Peter and Jenny Marston can claim to be genuine amateurs in building terms and yet with only some occasional help from their children they have designed and built this house virtually unaided. Full Details >>
Technical Info
Dreadnought Tiles conform to BS EN 1304:2013 and should be fixed in accordance with BS 5534 "Slating and Tiling" part 1 & 2 and BS 8000 Part 6.


Freeze Thaw Standards require plain clay tiles for use in the U.K. to withstand at least 150 freeze / thaw cycles under method E of European Standard EN 539-2:2013. At Dreadnought Tiles we regard this as too low for our climate and we therefore test our tiles to withstand in excess of 400 cycles.
Download Freeze Thaw Testing Report >>
Download this info as a pdf >>
Download Specification sheet as a word doc >>
| | | | |
| --- | --- | --- | --- |
| | Tiles | Eaves | Gable |
| Size | 265x 165 mm | 215x 165 mm | 265 x 248 mm |
| Weight | 1.19 kg | 0.95 kg | 1.8 kg |
| Pattern | Traditional Single Camber | | |
| Material | Etruria Marl | Etruria Marl | Etruria Marl |
Pitched Roofs
Vertical
Minimum Lap
65 mm
32 mm
Maximum Gauge
100 mm
115 mm
Approx Weight at
Maximum Gauge
71 kg/m2
63 kg/m2
Nails
38 x 2.65 mm alloy
38 x 2.65 mm alloy
Battens
38 x 25 mm
38 x 25 mm
Minimum Pitch
35 degree
Quantity Guide
| | |
| --- | --- |
| Tiles @ 100mm Gauge | 60m2 |
| 115mm Gauge | 53m2 |
| Eaves/Tops | 6/lineal metre |
| Gable (Tile and Half) | 5/lineal metre of verge |
| Hips and Valleys | 10/lineal metre of main rafter |
| Ridges | Supplied in 300 mm and 450 mm lengths |
Relevant Fixing Standards
| | |
| --- | --- |
| BS 5534 2014 | Code of Practice for Slating and Tiling |
| BS 8000-6.2013 | Workmanship on Building Sites |
| BS EN 1991-1-4:2005+A1:2010 | UK National Annex to Eurocode 1 -Actions on Structures - Part 1-4: General actions - wind actions |
Environmental Info
Place of Manufacture: Brierley Hill, UK
Environmental Management: ISO 14001 Download Certificate >>
Quality Management: ISO 9001 Download Certificate >>
Life Cycle: BRE 'A+' rating
Freeze Thaw Testing to in excess of 400 cycles Download Freeze Thaw Test Certificate >>
Energy: Fired in gas kilns to 1130 degrees
Raw materials: Etruria Marl Clay from our local quarry in Brierley Hill, sand
Lifespan: > 60 years. Second hand tiles that have been on roofs in excess of 100 years often sell for more than new tiles on the 2nd hand market
Recyclability: Can be crushed and used as aggregate and/or as an inert bulk fill
Packaging: We keep packaging to a minimum using wooden pallets. We do not shrink wrap or use plastic straps.
Find out more about Dreadnought Tiles approach to sustainability
Roof Components
BIM