Red

Perhaps, the best known and most widely used natural colour produced from Etruria Marl. Ideal for matching and repairs, with their subtle shade variations, the traditional red Smoothfaced single camber clay roof tile is widely used throughout areas where clay tiles are established and appreciated for its rich red colour. Red Sandfaced tiles give a softer appearance and are chosen more frequently in the South.
Available in Smoothfaced/Sandfaced
Case Studies
Manber Jefferies House
Staffs red sanded tiles with external angles, cloaked verges and mono ridges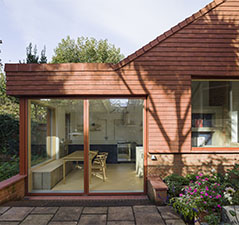 A new intricate vaulted gardenroom for a Victorian house in Willesden Green uses Dreadnought red sanded tiles to wrap over the pitched roof, onto the vertical. Architect James Alder has focussed on detail using matching external angles, cloaked verges and monoridges and his work has been rewarded with 2 2023 RIBA London awards! The clay tiles relate well to the Victorian architecture in the surrounding area and the scheme is somehow both traditional and contemporary. Full details
Athlone House Highgate North London
Staffs red and blue plain and ornamental spade and fishtail tiles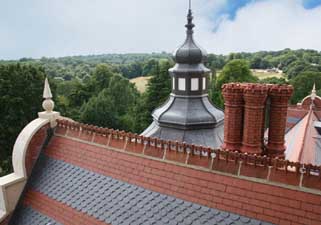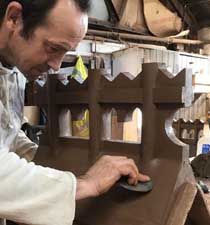 Winner of 2 pitched roofing awards in 2021, this house has recently undergone major restoration to bring it back to its former glory and transform it into a beautiful modern family home. The new scheme, designed by SHH Architecture won approval from Historic England who were keen to preserve the character and appearance of the Highgate conservation area. Full Details
Tyntesfield House
Grade I listed winner 2012 RICS SW Building Conservation
Red and Staffordshire Blue Plain Clay Roof Tiles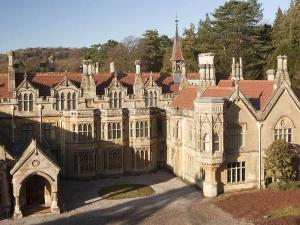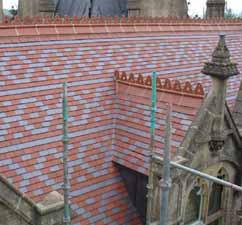 For this £4.7 million restoration, co-funded by English Heritage and the Heritage Lottery Fund, Project architects Rodney Melville & Partners, of Bristol, were tasked with the specification of clay plain roof tiles to recreate the elaborate diaper pattern of Tyntesfield's pitched roof, which comprised 65,000 red and blue/black roof tiles. The main task therefore was to colour match the original tiles with 'like for like' replacement tiles. Dreadnought provided the best match to the originals. Full Details
Technical Info
Dreadnought Tiles conform to BS EN 1304:2013 and should be fixed in accordance with BS 5534 "Slating and Tiling" part 1 & 2 and BS 8000 Part 6.


Freeze Thaw Standards require plain clay tiles for use in the U.K. to withstand at least 150 freeze / thaw cycles under method E of European Standard EN 539-2:2013. At Dreadnought Tiles we regard this as too low for our climate and we therefore test our tiles to withstand in excess of 400 cycles.
Download Freeze Thaw Testing Report
Download Specification sheet as a word doc
| | | | |
| --- | --- | --- | --- |
| | Tiles | Eaves | Gable |
| Size | 265x 165 mm | 215x 165 mm | 265 x 248 mm |
| Weight | 1.19 kg | 0.95 kg | 1.8 kg |
| Pattern | Traditional Single Camber | | |
| Material | Etruria Marl | Etruria Marl | Etruria Marl |
Pitched Roofs
Vertical
Minimum Lap
65 mm
32 mm
Maximum Gauge
100 mm
115 mm
Minimum Gauge
88mm
88mm
Approx Weight at
Maximum Gauge
71 kg/m2
63 kg/m2
Nails
38 x 2.65 mm alloy
38 x 2.65 mm alloy
Battens
38 x 25 mm
38 x 25 mm
Minimum Pitch
35 degree
Quantity Guide
| | |
| --- | --- |
| Tiles @ 100mm Gauge | 60m2 |
| 115mm Gauge | 53m2 |
| Eaves/Tops | 6/lineal metre |
| Gable (Tile and Half) | 5/lineal metre of verge |
| Hips and Valleys | 10/lineal metre of main rafter |
| Ridges | Supplied in 300 mm and 450 mm lengths |
Relevant Fixing Standards
| | |
| --- | --- |
| BS 5534 2014 | Code of Practice for Slating and Tiling |
| BS 8000-6.2013 | Workmanship on Building Sites |
| BS EN 1991-1-4:2005+A1:2010 | UK National Annex to Eurocode 1 -Actions on Structures - Part 1-4: General actions - wind actions |
Environmental Info
Place of Manufacture: Brierley Hill, UK
Environmental Management: ISO 14001 Download Certificate
Quality Management: ISO 9001 Download Certificate
Life Cycle: BRE 'A+' rating
Freeze Thaw Testing to in excess of 400 cycles Download Freeze Thaw Test Certificate >>
Energy: Fired in gas kilns to 1130 degrees
Raw materials: Etruria Marl Clay from our local quarry in Brierley Hill, sand
Lifespan: > 60 years. Second hand tiles that have been on roofs in excess of 100 years often sell for more than new tiles on the 2nd hand market
Recyclability: Can be crushed and used as aggregate and/or as an inert bulk fill
Packaging: We keep packaging to a minimum using wooden pallets. We do not shrink wrap or use plastic straps.
Find out more about Dreadnought Tiles approach to sustainability
Roof Components
BIM
Dreadnought BIM Objects
Request Sample
Machine-Made Sample Request Form