Country brown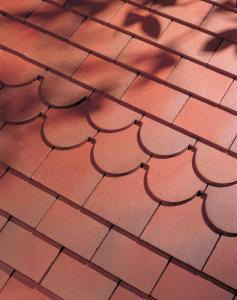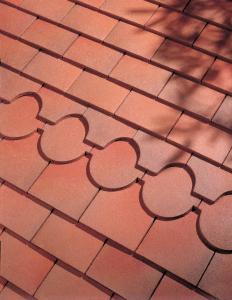 Natural multi-coloured red and brown clay roof tiles produced without any artificial stains or pigments. A softer lighter colour, which is popular in the south of the country.
Available in Smoothfaced or Sandfaced
Case Studies
Audley luxury retirement home Chalfont St Peter
Country Brown Sanded Plain Clay Roof Tiles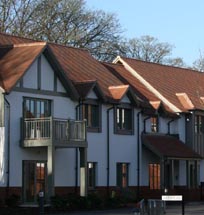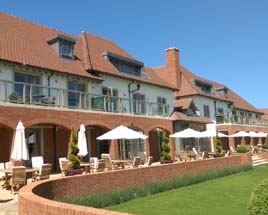 Country Brown Sanded tiles have been used at the new Audley luxury retirement village at Chalfont St Peter on both their self contained cottages and apartments as well as for their club house. The style of the properties and their materials reflect the traditional Arts and Crafts buildings in the surrounding area of the Chilterns. Audley have won a number of conservation awards for their buildings and are renowned for their high quality developments.
Refurbishment of Downside Abbey
Highly Commended at Clay Roofing Awards Best Ecclesiastical Roof

The project was to re-roof the Monastery building and to achieve a close match to the original Broseley tiles. Dreadnought Country Brown Smoothfaced tiles were specified by the architects Beech Tyldesley after gaining approval from English Heritage.
Mr Stuart Forsey, the clerk of works found that the Broseley and Dreadnought tiles were virtually indistinguishable. Full Details
Reroofing of Mckee Irish Army Barracks in Dublin
124,000 Country Brown Plain Clay Roof Tiles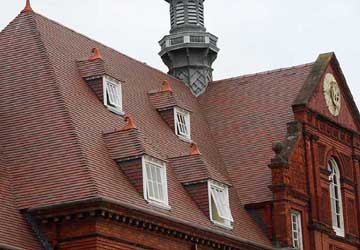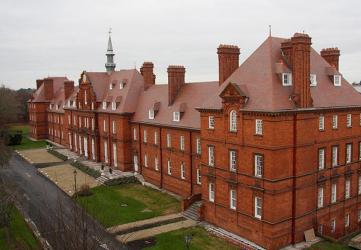 The original roof on this prestigious Irish heritage building used a naturally pigmented single camber clay tile that was typical of tiles manufactured in the late nineteenth, early twentieth century in the UK. To have used artificially coloured or stained clay tiles for the re-roof would have been a disservice to the rich architectural heritage of this building, and as such, the architect chose to use naturally fired Dreadnought Country Brown clay tiles and these were supplied by our representative in Ireland, Lagan Building Solutions. Full Details
Hatchford Park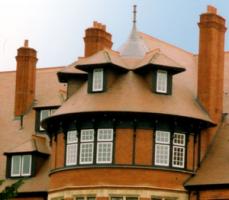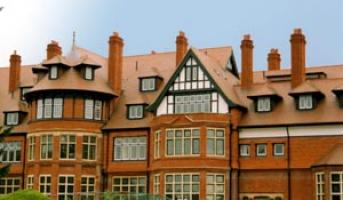 With fire damage almost destroying the Grade II listed mansion, the challenge was to rebuild and decorate the building to match the original design and reproduce a great deal of the detail that existed with this tudor-style building. Full Details
Technical Info
Dreadnought Tiles conform to BS EN 1304:2013 and should be fixed in accordance with BS 5534 "Slating and Tiling" part 1 & 2 and BS 8000 Part 6.


Freeze Thaw Standards require plain clay tiles for use in the U.K. to withstand at least 150 freeze / thaw cycles under method E of European Standard EN 539-2:2013. At Dreadnought Tiles we regard this as too low for our climate and we therefore test our tiles to withstand in excess of 400 cycles.
Download Freeze Thaw Testing Report
Download Specification sheet as a word doc
| | | | |
| --- | --- | --- | --- |
| | Tiles | Eaves | Gable |
| Size | 265x 165 mm | 215x 165 mm | 265 x 248 mm |
| Weight | 1.19 kg | 0.95 kg | 1.8 kg |
| Pattern | Traditional Single Camber | | |
| Material | Etruria Marl | Etruria Marl | Etruria Marl |
Pitched Roofs
Vertical
Minimum Lap
65 mm
32 mm
Maximum Gauge
100 mm
115 mm
Minimum Gauge
88mm
88mm
Approx Weight at
Maximum Gauge
71 kg/m2
63 kg/m2
Nails
38 x 2.65 mm alloy
38 x 2.65 mm alloy
Battens
38 x 25 mm
38 x 25 mm
Minimum Pitch
35 degree
Quantity Guide
| | |
| --- | --- |
| Tiles @ 100mm Gauge | 60m2 |
| 115mm Gauge | 53m2 |
| Eaves/Tops | 6/lineal metre |
| Gable (Tile and Half) | 5/lineal metre of verge |
| Hips and Valleys | 10/lineal metre of main rafter |
| Ridges | Supplied in 300 mm and 450 mm lengths |
Relevant Fixing Standards
| | |
| --- | --- |
| BS 5534 2014 | Code of Practice for Slating and Tiling |
| BS 8000-6.2013 | Workmanship on Building Sites |
| BS EN 1991-1-4:2005+A1:2010 | UK National Annex to Eurocode 1 -Actions on Structures - Part 1-4: General actions - wind actions |
Environmental Info
Place of Manufacture: Brierley Hill, UK
Environmental Management: ISO 14001 Download Certificate
Quality Management: ISO 9001 Download Certificate
Life Cycle: BRE 'A+' rating
Freeze Thaw Testing to in excess of 400 cycles Download Freeze Thaw Test Certificate >>
Energy: Fired in gas kilns to 1130 degrees
Raw materials: Etruria Marl Clay from our local quarry in Brierley Hill, sand
Lifespan: > 60 years. Second hand tiles that have been on roofs in excess of 100 years often sell for more than new tiles on the 2nd hand market
Recyclability: Can be crushed and used as aggregate and/or as an inert bulk fill
Packaging: We keep packaging to a minimum using wooden pallets. We do not shrink wrap or use plastic straps.
Find out more about Dreadnought Tiles approach to sustainability
Roof Components
BIM
Dreadnought BIM Objects
Request Sample
Machine-Made Sample Request Form