Other mixed colour blends
Dreadnoughts are made for blending
Why not create your own mixed colour blend, by selecting your own combination of colours from any of the Dreadnought ranges of clay roof tiles? Mixing some blue tiles with multi coloured brindle tiles for example will add depth and texture to the roofscape.
For reroofing and colour matching, sometimes a single colour just doesn't provide a close enough match to the original whereas a combination of colours works much better. Normally some combination of Dreadnought colours will provide a close match.
The best way to select a mixed colour blend is to lay out colour samples in various combinations on site. Seeing existing roofs will also give you a good indication, and we can supply you with a list of sites to visit.
In our experience, the more successful blends are those where there is a dominance of one colour rather than being mixed 50:50.
Case Studies
Build it Educational House at Graven Hill
40% Country Brown sanded, 40% red, 20% Brown Heather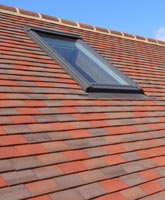 Build It magazine have embarked on their own self build project at the custom and selfbuild development at Graven Hill. Their new modern educational Showhome designed by Lapd Architects features a combination of timber cladding and render beneath a mixed colour Dreadnought clay tiled roof of country brown, red and brown brindle tiles. The 3 colour mixed blend of sandfaced clay tiles in country brown, brown heather and red brings texture, warmth and character to this contemporary new build house.
St Georges Cathedral in Cape Town South Africa
66% Plum Red, 20% Brown Antique, 14% Country Brown machinemade clay tiles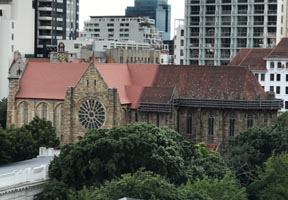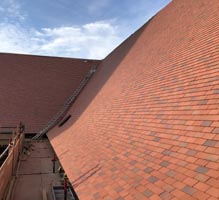 This heritage building, renowned for its role in the resistance against apartheid, had old Sovereign Broseley and Perfecta tiles on its roof. Specialist heritage advisor John Rennie needed to find a similar traditional clay tile that would suit the historic status of the building. Unlike most clay tiles manufactured today, Dreadnoughts are naturally coloured by skilful control of the firing process rather than by using surface stains and pigments. This process generates a truly traditional product with the same character and appearance of tiles made over 100 years ago. John selected Dreadnought Plum Red tiles and blended in some Brown Antique and Country Brown tiles to add more tonal variety to this large roof. Full details
A blend of mixed blue handmade tiles on a selfbuild in Oxfordshire
Staffordshire Blue and Dark Heather handmade tiles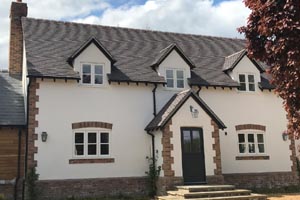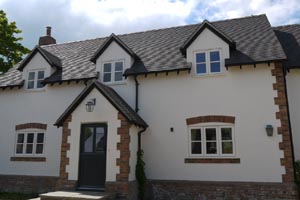 Selfbuilder Bernice Cuthbert had been looking for handmade clay roof tiles for some time but had been disappointed by the samples she had received which she felt were too stark and harsh to blend in with the old buildings in the surrounding conservation area. She found Dreadnought's natural clay colours were just what she had been looking for. They have a mellow and characterful look and they blend well with the blue shades in the handmade bricks. Full details
Government House, Wellington, New Zealand
80% Plum Red, 20% Brown Antique Machinemade clay roof tiles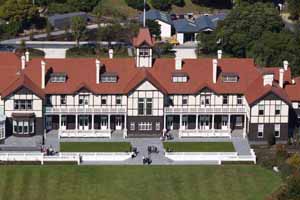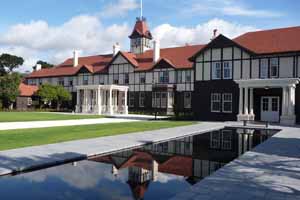 Dreadnought exported 200,000 tiles to NZ to match the original Perfecta tiles on the Governor General's residence. The Perfecta tiles, like Dreadnought tiles were made from Etruria Marl clay. To match the appearance we supplied 80% plum red tiles and 20% Brown Antique tiles. In the early 1900's tiles were fired in coal fired kilns where colour control was not as exact as it is today, so the 20% Brown Antique tiles have been mixed in with the red to match the original appearance. Full details
Spijkenisse, Holland
50% Red Blue Smooth and 50% Brown Brindle Machinemade clay roof tiles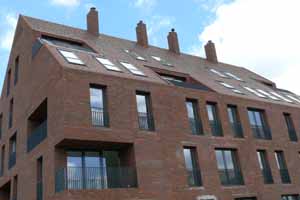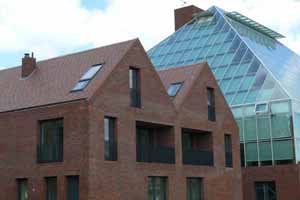 The design idea behind these modern office buildings in Spijkenisse, Holland, was to make no distinction between the walls and the roof. The roof tiles and the bricks were chosen to be a very good match in terms of colour and hidden gutters were used to form a seamless transition from the roof to the walls.
National Motorcycle Museum
80% Brown Brindle, 20% Brown Antique
Shortlisted for Clay Roofing Tile Awards - Best Commercial Refurbishment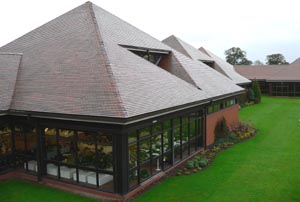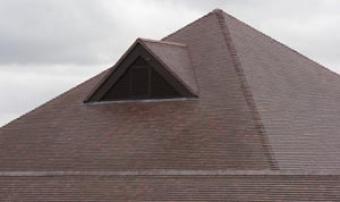 When 80% of the buiding was destroyed by fire back in 2003, it became apparent that the tile factory which had provided the original Rosemary tiles no longer existed. It was necessary to find a manufacturer still able to produce Staffordshire tiles of natural burnt clay colours, quickly and in large quantities. A mixed blend of Dreadnought's Brown Brindle and Brown Antique tiles was selected and and the resulting roofscape provides a good example of how a traditional material such as this blend of Staffordshire plain tile colours can be used to dramatic effect on a series of steep, linked pyramid steel framed roofs. Full Details

St Mary's Church, Bentley, Hants
Country Brown, Red Blue and Blue Brindle Machinemade clay roof tiles

A new church hall/community centre was built at St Mary's Church and it was important that the new building should match in well with the other existing church buildings. Despite significant weathering, the old church roof has varied hues of red, blue, browns and purples. The church committee looked at a variety of mixes and chose a blend of Country Brown, Red Blue and Blue Brindle, and the result is excellent.
Technical Info
Dreadnought Tiles conform to BS EN 1304:2013 and should be fixed in accordance with BS 5534 "Slating and Tiling" part 1 & 2 and BS 8000 Part 6.


Freeze Thaw Standards require plain clay tiles for use in the U.K. to withstand at least 150 freeze / thaw cycles under method E of European Standard EN 539-2:2013. At Dreadnought Tiles we regard this as too low for our climate and we therefore test our tiles to withstand in excess of 400 cycles.
Download Freeze Thaw Testing Report
Download Specification sheet as a word doc
| | | | |
| --- | --- | --- | --- |
| | Tiles | Eaves | Gable |
| Size | 265x 165 mm | 215x 165 mm | 265 x 248 mm |
| Weight | 1.19 kg | 0.95 kg | 1.8 kg |
| Pattern | Traditional Single Camber | | |
| Material | Etruria Marl | Etruria Marl | Etruria Marl |
Pitched Roofs
Vertical
Minimum Lap
65 mm
32 mm
Maximum Gauge
100 mm
115 mm
Minimum Gauge
88mm
88mm
Approx Weight at
Maximum Gauge
71 kg/m2
63 kg/m2
Nails
38 x 2.65 mm alloy
38 x 2.65 mm alloy
Battens
38 x 25 mm
38 x 25 mm
Minimum Pitch
35 degree
Quantity Guide
| | |
| --- | --- |
| Tiles @ 100mm Gauge | 60m2 |
| 115mm Gauge | 53m2 |
| Eaves/Tops | 6/lineal metre |
| Gable (Tile and Half) | 5/lineal metre of verge |
| Hips and Valleys | 10/lineal metre of main rafter |
| Ridges | Supplied in 300 mm and 450 mm lengths |
Relevant Fixing Standards
| | |
| --- | --- |
| BS 5534 2014 | Code of Practice for Slating and Tiling |
| BS 8000-6.2013 | Workmanship on Building Sites |
| BS EN 1991-1-4:2005+A1:2010 | UK National Annex to Eurocode 1 -Actions on Structures - Part 1-4: General actions - wind actions |
Environmental Info
Place of Manufacture: Brierley Hill, UK
Environmental Management: ISO 14001 Download Certificate
Quality Management: ISO 9001 Download Certificate
Life Cycle: BRE 'A+' rating
Freeze Thaw Testing to in excess of 400 cycles Download Freeze Thaw Test Certificate
Energy: Fired in gas kilns to 1130 degrees
Raw materials: Etruria Marl Clay from our local quarry in Brierley Hill, sand
Lifespan: > 60 years. Second hand tiles that have been on roofs in excess of 100 years often sell for more than new tiles on the 2nd hand market
Recyclability: Can be crushed and used as aggregate and/or as an inert bulk fill
Packaging: We keep packaging to a minimum using wooden pallets. We do not shrink wrap or use plastic straps.
Find out more about Dreadnought Tiles approach to sustainability
Roof Components
BIM
Dreadnought BIM Objects
Request Sample