Collingwood blend
Rustic shades of brown
The Collingwood blend of plain clay roof tiles creates a rustic and elegant looking roof of enduring quality.
It can be supplied on pallets in a predetermined mix with the right proportions of quantities and colours, in machinemade smooth or sandfaced, or in rustic or handmade. When the tiles are pre-mixed, valuable time is saved on site and additional savings are made as waste is reduced when laying. Also available unmixed.
Available in machinemade smooth/sandfaced/rustic/handmade/mixed/unmixed
Case Studies
Oak framed house in Shropshire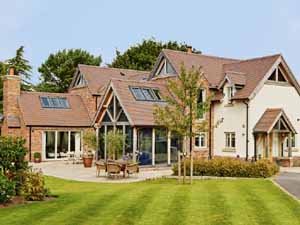 Choosing the right building materials for the external envelope was really important to the Lawsons who looked at a number of Dreadnought reference sites before choosing the Collingwood blend for their Welsh Oak frame home. Full details
Private house, Hampshire

This newbuild project involved two oak framed properties, a larger farmhouse and a three bed cottage. The client wanted a traditional and established look and was keen that the ridges and valley tiles would seamlessly match the rest of the roof. This would have been difficult to achieve with reclaimed tiles. Full Details
New Audley Inglewood Luxury Retirement village

Set in countryside once owned by William the Conqueror, this new Audley luxury retirement village uses collingwood blend on the roofs of the cottages to blend in with their beautiful rural surroundings and complement the elegant central Manor house. Audley have won a number of conservation awards for their buildings and are renowned for their high quality developments. Audley Inglewood won a Gold in the "What House?" Awards for Best Retirement Village. Full details
Re-roof of Victorian house, Worcs
with Ornamental Club Tiles and Handed Club Gables, and Bespoke Ornamental Ridge and Bespoke Finials
Several different combinations of colours were tried in panels before achieving perfection with the Collingwood Blend Because they are natural burnt clay colours they blend perfectly without appearing contrived or artificial. Just how successful the restoration has been in reproducing the colours and pattern of the original roof can be seen by comparing the new main roof with the original low level bay roofs where restoration will form part of a future phase. Full Details
Private house, Nr Ringwood
Winner of the CRTC 2008 "Best Self Build" Clay Roof
This most unusual roofscape design allowed most of the rooms for this contemporary newbuild to centre themselves on the dramatic views without needing the plot space of a linear design. There are many different facets to the roof which cut in at different angles and there are also an unusual number of verges and abutments . Only plain clay tiles could have achieved the elegant sleek lines of the roof, or could have coped with the small triangular roof areas, which are central to the modern design of this property. Full Details
Technical Info
Dreadnought Tiles conform to BS EN 1304:2013 and should be fixed in accordance with BS 5534 "Slating and Tiling" part 1 & 2 and BS 8000 Part 6.


Freeze Thaw Standards require plain clay tiles for use in the U.K. to withstand at least 150 freeze / thaw cycles under method E of European Standard EN 539-2:2013. At Dreadnought Tiles we regard this as too low for our climate and we therefore test our tiles to withstand in excess of 400 cycles.
Download Freeze Thaw Testing Report
Download Specification sheet as a word doc
| | | | |
| --- | --- | --- | --- |
| | Tiles | Eaves | Gable |
| Size | 265x 165 mm | 215x 165 mm | 265 x 248 mm |
| Weight | 1.19 kg | 0.95 kg | 1.8 kg |
| Pattern | Traditional Single Camber | | |
| Material | Etruria Marl | Etruria Marl | Etruria Marl |
Pitched Roofs
Vertical
Minimum Lap
65 mm
32 mm
Maximum Gauge
100 mm
115 mm
Minimum Gauge
88mm
88mm
Approx Weight at
Maximum Gauge
71 kg/m2
63 kg/m2
Nails
38 x 2.65 mm alloy
38 x 2.65 mm alloy
Battens
38 x 25 mm
38 x 25 mm
Minimum Pitch
35 degree
Quantity Guide
| | |
| --- | --- |
| Tiles @ 100mm Gauge | 60m2 |
| 115mm Gauge | 53m2 |
| Eaves/Tops | 6/lineal metre |
| Gable (Tile and Half) | 5/lineal metre of verge |
| Hips and Valleys | 10/lineal metre of main rafter |
| Ridges | Supplied in 300 mm and 450 mm lengths |
Relevant Fixing Standards
| | |
| --- | --- |
| BS 5534 2014 | Code of Practice for Slating and Tiling |
| BS 8000-6.2013 | Workmanship on Building Sites |
| BS EN 1991-1-4:2005+A1:2010 | UK National Annex to Eurocode 1 -Actions on Structures - Part 1-4: General actions - wind actions |
Environmental Info
Place of Manufacture: Brierley Hill, UK
Environmental Management: ISO 14001 Download Certificate
Quality Management: ISO 9001 Download Certificate
Life Cycle: BRE 'A+' rating
Freeze Thaw Testing to in excess of 400 cycles Download Freeze Thaw Test Certificate >>
Energy: Fired in gas kilns to 1130 degrees
Raw materials: Etruria Marl Clay from our local quarry in Brierley Hill, sand
Lifespan: > 60 years. Second hand tiles that have been on roofs in excess of 100 years often sell for more than new tiles on the 2nd hand market
Recyclability: Can be crushed and used as aggregate and/or as an inert bulk fill
Packaging: We keep packaging to a minimum using wooden pallets. We do not shrink wrap or use plastic straps.
Find out more about Dreadnought Tiles approach to sustainability
Roof Components
BIM
Dreadnought BIM Objects
Request Sample
Tile Blends Sample Request Form