Creasing tiles
Creasing tiles are used in buildings for damp proofing and to add fine decorative finishes to brick and stone work. Creasing tiles are plain clay tiles without nibs or camber and they are used for cappings and copings, damp proof courses (DPC), external cills, corbelling, arches, chimneys and decorative quoins.
Dreadnought manufacture Creasing Tiles in three traditional Staffordshire colours, Blue Brindle, Brown Brindle and Red and they are made to the same standards as the plain clay roof tiles.
Case Studies
Decorative stacked creasing tiles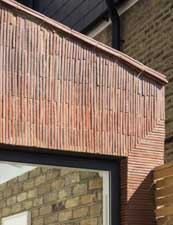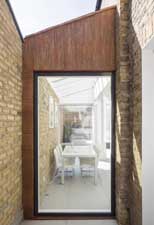 Yard Architects took inspiration from Arts and Crafts detailing on lintels and designed a new extension on a London house using stacked creasing tiles as cladding. It was important for the design that the creasing tiles had no camber and were as flat as possible and Dreadnought's were ideal for this. A blend of Staffordshire red and brown brindle creasing tiles were used to reference the Victorian brickwork on the street side of the house. Full details on Ketley Brick website>>
Technical Info
There are no standards specifically covering Creasing Tiles, however our creasing tiles conform to BS EN 1304:1998 which covers Clay Roof Tiles and Fittings and they exceed the specification in terms of transverse strength and water absorption.
| | |
| --- | --- |
| | Creasing Tiles |
| Colour | Staffordshire Blue Brindle, Staffordshire Red, Staffordshire Brown Brindle |
| Size | 265x 165 mm |
| Thickness | 11mm |
| Weight per tile | 1.05 kg |
| Weight per pack | 1.20 Tonnes |
| No of Tiles per pack | 1000 |
| Finish | Smoothfaced |
| Material | Etruria Marl |
| Transverse Strength | 880N |
| Water Absorption | 3.9% |
| Freeze/thaw resistance | Conforms to BSEN 539-2 |
Environmental Info
Place of Manufacture: Brierley Hill, UK
Environmental Management: 14001 Download Certificate
Quality Management : 9001 Download Certificate
Life Cycle: BRE 'A+' rating
Freeze Thaw Testing to in excess of 400 cycles Download Freeze Thaw Test Certificate
Energy: Fired in gas kilns to 1130 degrees
Raw materials: Etruria Marl Clay from our local quarry in Brierley Hill, sand
Lifespan: > 60 years. Second hand tiles that have been on roofs in excess of 100 years often sell for more than new tiles on the 2nd hand market
Recyclability: Can be crushed and used as aggregate and/or as an inert bulk fill
Packaging: We keep packaging to a minimum using wooden pallets. We do not shrink wrap or use plastic straps.
Find out more about Dreadnought Tiles approach to sustainability
Laying Instructions
Laying Instructions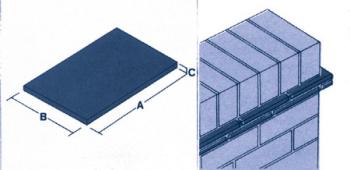 Creasing Tiles should be laid with a broken bond and a minimum lap of 75mm. The joint width between tiles should not exceed 10mm in all applications.
When cutting creasing tiles, a mechanical disc cutter is recommended over hand cutting particularly when used in exposed areas, as this will provide a neater appearance and help avoid cracks that can reduce the performance of the creasing tile.
For freestanding walls where creasing tiles are used under brick cappings, day courses of clay tiles should be laid with staggered joints in a 1:1/4:3 mortar and a minimum projection from the wall of at least 45mm.
Request Sample
Creasing Tile Sample Request Form