Red blue blend
This colour is achieved through skilled control of the burning process to produce the traditional naturally occuring random hues of authentic multi-coloured clay roof tiles; colours that cannot be replicated artifically with stains and pigments. The colours within this blend are rich and varied with purples & blues merging with reds and vibrant terracottas. It is this random varied quality in the firing of this blend which results in some purply blue tiles, some terracotta red tiles and some tiles which are both red and blue.
Available as Smoothfaced/Sandfaced
Case Studies
Argent Centre, Birmingham
Winner of 2021 Victorian Society Birmingham & West Midlands Group Conservation Award
Red blue blend plain and ornamental club tiles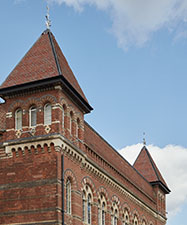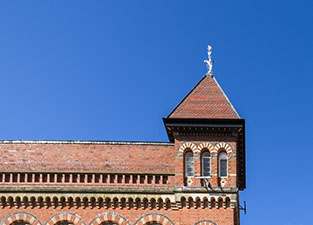 The restoration and recreation of 2 turrets at the Argent Centre, funded by Jewellery Quarter Townscape Heritage, has been celebrated by the Victorian Society. Oliver Architecture used old Victorian engravings from 1863, the year the centre was built, to reconstruct the turrets at the entrance to Birmingham's Jewellery Quarter and bring back the prominance and stature of the building. Dreadnought tiles were found to provide the most authentic match to the tiles in the original drawings and their natural clay colours best represent the subtle colour variation that tiles in the 19th century would have had. Full details
Bletchingdon School
64 000 Red Blue Blend tiles, arris hips, valleys and half round ridges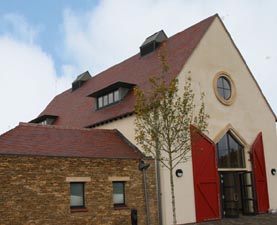 Built on land owned by the Duchy of Cornwall, the plans for this £3.5 million School and Community Centre needed approval from the Duchy as well as the Parish and District councils. Dreadnought's Red Blue tiles were selected for their rich natural colour. "Other red/blue tiles we considered were more uniform with a very similar grading of red to blue in each tile which looks artificial on a large area. We chose Dreadnought tiles as we were looking for a product which had a natural colour generated by the firing." Sam Cook, Director at Coleman Hicks Partnership. Full details
Nocton Church
3600 Staffordshire Blue Bullnose, 3600 Red/Blue Blend Bullnose and 7600 Red/Blue Blend Plain tiles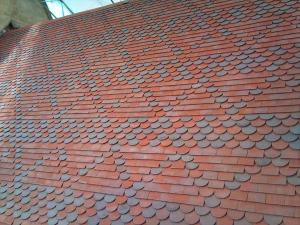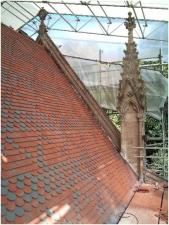 This English Heritage funded reroofing project used Staffordshire Blue bullnose ornamentals and re/blue plain tiles to recreate the old polychromatic roof with a diaper pattern. Dreadnought is the only UK roofing tile manufacturer that does not use stains or surface pigments to colour its products, ­ colour is instead achieved by control of the kiln atmosphere. Its Red/Blue tiles, as used on All Saints, probably more than any other, exhibit the characteristics of naturally coloured tiles. The benefits of this approach include a softer, more natural colour that will not fade over time. Full Details
Abbotts Brook, Quantum Homes
Shortlisted for CRTC Awards 2008 "Housing New Build"
Red Blue Blend Plain Clay Roof Tiles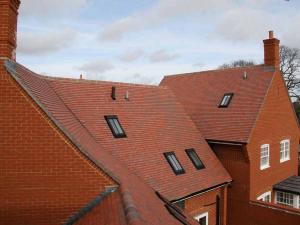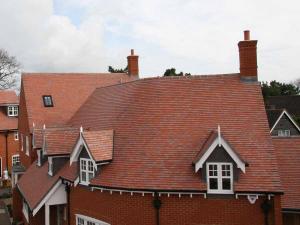 A development of 11 exemplar and innovative family homes on the fringes of a conservation area. Full Details
Moseley Hall Hospital
Red/Blue Blend Plain Clay Roof Tiles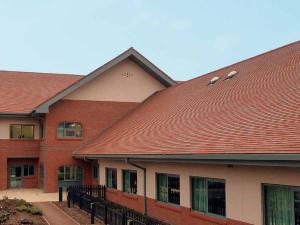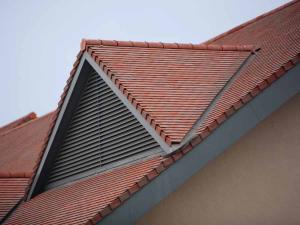 "We felt we needed to use a domestic traditional roofing material to blend in with the surrounding architecture" explains Richard Ali from the Design Buro "and the planners liked Dreadnought's red/blue colour as it fitted in well with the surrounding buildings. Practical considerations required that the roof contain a number of air intake louvres which were cloaked to blend in with the roofline. Dreadnought were able to supply all the fittings that we needed and we are very pleased with the result." Full Details
Technical Info
Dreadnought Tiles conform to BS EN 1304:2013 and should be fixed in accordance with BS 5534 "Slating and Tiling" part 1 & 2 and BS 8000 Part 6.


Freeze Thaw Standards require plain clay tiles for use in the U.K. to withstand at least 150 freeze / thaw cycles under method E of European Standard EN 539-2:2013. At Dreadnought Tiles we regard this as too low for our climate and we therefore test our tiles to withstand in excess of 400 cycles.
Download Freeze Thaw Testing Report
Download Specification sheet as a word doc
| | | | |
| --- | --- | --- | --- |
| | Tiles | Eaves | Gable |
| Size | 265x 165 mm | 215x 165 mm | 265 x 248 mm |
| Weight | 1.19 kg | 0.95 kg | 1.8 kg |
| Pattern | Traditional Single Camber | | |
| Material | Etruria Marl | Etruria Marl | Etruria Marl |
Pitched Roofs
Vertical
Minimum Lap
65 mm
32 mm
Maximum Gauge
100 mm
115 mm
Minimum Gauge
88mm
88mm
Approx Weight at
Maximum Gauge
71 kg/m2
63 kg/m2
Nails
38 x 2.65 mm alloy
38 x 2.65 mm alloy
Battens
38 x 25 mm
38 x 25 mm
Minimum Pitch
35 degree
Quantity Guide
| | |
| --- | --- |
| Tiles @ 100mm Gauge | 60m2 |
| 115mm Gauge | 53m2 |
| Eaves/Tops | 6/lineal metre |
| Gable (Tile and Half) | 5/lineal metre of verge |
| Hips and Valleys | 10/lineal metre of main rafter |
| Ridges | Supplied in 300 mm and 450 mm lengths |
Relevant Fixing Standards
| | |
| --- | --- |
| BS 5534 2014 | Code of Practice for Slating and Tiling |
| BS 8000-6.2013 | Workmanship on Building Sites |
| BS EN 1991-1-4:2005+A1:2010 | UK National Annex to Eurocode 1 -Actions on Structures - Part 1-4: General actions - wind actions |
Environmental Info
Place of Manufacture: Brierley Hill, UK
Environmental Management: ISO 14001 Download Certificate
Quality Management: ISO 9001 Download Certificate
Life Cycle: BRE 'A+' rating
Freeze Thaw Testing to in excess of 400 cycles Download Freeze Thaw Test Certificate >>
Energy: Fired in gas kilns to 1130 degrees
Raw materials: Etruria Marl Clay from our local quarry in Brierley Hill, sand
Lifespan: > 60 years. Second hand tiles that have been on roofs in excess of 100 years often sell for more than new tiles on the 2nd hand market
Recyclability: Can be crushed and used as aggregate and/or as an inert bulk fill
Packaging: We keep packaging to a minimum using wooden pallets. We do not shrink wrap or use plastic straps.
Find out more about Dreadnought Tiles approach to sustainability
Roof Components
BIM
Dreadnought BIM Objects
Request Sample
Machine-Made Sample Request Form