Classic Staffordshire blue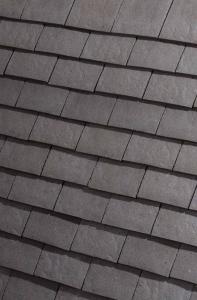 Dreadnought Classic Staffordshire Blue clay tiles produce a striking and unique coloured roof. The varied texture of the handmade tile adds character. These tiles are justifiably popular for self build homes and churches.
Following a 25 year gap Dreadnought have re-launched this tile made using the same clay, care and delicate kiln control that is synonymous with a Dreadnought.
Case Studies
New accommodation at Kings College Cambridge
Dreadnought Staffs blue handmade tiles and Ketley Staffs blue clay quarry tiles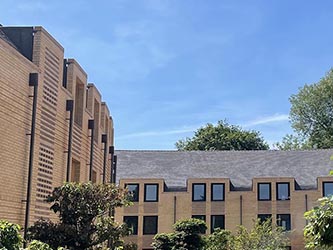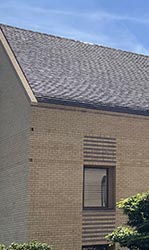 The new Stephen Taylor Court at Kings College Cambridge is made up of 3 crescent terraces, a renovated Victorian villa and a new one, all surrounding generous gardens. It lies within a conservation area, known for its Arts and Crafts houses which Architects Feilden Clegg Bradley Studios looked to reference in the design in a contemporary way. They targeted a 100 year design life for the project, designing to Passivhaus standards to have as low a carbon impact as possible and material choice was an important part of this. Full details>>
Mixed blues
A blend of Staffs blue and dark heather Classic Tiles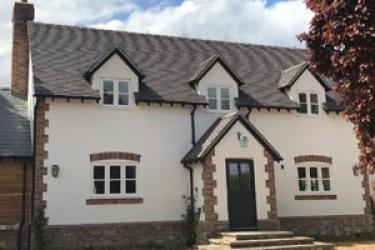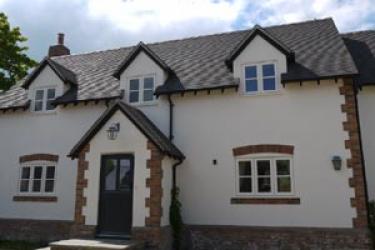 Self Builder Bernice Cuthbert had been searching for handmade blue roof tiles for some time, and had not liked the harsh look of the artificially coloured samples she had received. When her Dreadnought samples arrived, she had finally found what she had been looking for; mellow shades of natural clay colour which would blend in perfectly with the blues in the handmade bricks she had already selected. "I have been delighted with the tiles since day one and still get huge pleasure out of looking at them", she says. Full details
Once upon a hill

Set high up on a spectacular 10km ridge near Shrewsbury, in SW Shropshire, rising to 536m above sea level is the wild and dramatic Stiperstones National Nature Reserve. When Ian Storey of Conservation Building Services Ltd was contracted by Natural England with support from English Heritage, Heritage Lottery Fund and the European Community to restore Davies Cottage a 19th century miners cottage within the reserve, a project called 'Once upon a hill', they struggled to find a suitable rooftile. Dreadnought are the only clay tile manufacturer in the UK to produce a genuine staffordshire blue tile. This is achieved by careful control of the kiln atmosphere, using methods passed down through generations of family management.
Fortunately, CBS learnt that Dreadnought had just re established their handmade range and their Classic handmade Staffordshire Blue tile was exactly what CBS were looking for. It is a dark tile very similar in appearance to the Dreadnought handmade tiles produced between 1805 and 1984. Its authentic shape and colour have recreated the charm and character of this historic cottage. Full details
Technical Info
Dreadnought Tiles conform to BS EN 1304:2013 and should be fixed in accordance with BS5534 "Slating and Tiling" part 1 & 2 and BS8000 Part 6.


Freeze Thaw Standards require plain clay tiles for use in the U.K. to withstand at least 150 freeze / thaw cycles under method E of European Standard EN 539-2:2013. At Dreadnought Tiles we regard this as too low for our climate and we therefore test our tiles to withstand in excess of 400 cycles.
Download Freeze Thaw Testing Report
Download Specification Word Doc
| | | | |
| --- | --- | --- | --- |
| | Tiles | Eaves | Gable |
| Size | 265 x 165 mm | 215 x 165 mm | 265 x 248 mm |
| Weight | 1.5 kg | 1.2 kg | 2.3 kg |
| Pattern | Handmade | | |
| Material | Etruria Marl | Etruria Marl | Etruria Marl |
Pitched Roofs
Vertical
Minimum Lap
65 mm
32 mm
Maximum Gauge
100 mm
115 mm
Minimum Gauge
88mm
88mm
Approx Weight at
Maximum Gauge
90 kg/m2
79.5 kg/m2
Nails
38 x 2.65 mm alloy
38 x 2.65 mm alloy
Battens
38 x 25 mm
38 x 25 mm
Minimum Pitch
35 degree
Quantity Guide
| | |
| --- | --- |
| Tiles @ 100mm Gauge | 60 per m2 |
| 115mm Gauge | 53 per m2 |
| Eaves/Tops | 6/lineal metre |
| Gable (Tile and Half) | 5/lineal metre of verge |
| Hips and Valleys | 10/lineal metre of main rafter |
| Ridges | Supplied in 300 mm and 450 mm lengths |
Relevant Fixing Standards
| | |
| --- | --- |
| BS 5534 2014 | Code of Practice for Slating and Tiling |
| BS 8000-6.2013 | Workmanship on Building Sites |
| BS EN 1991-1-4:2005+A1:2010 | UK National Annex to Eurocode 1 -Actions on Structures - Part 1-4: General actions - wind actions |
Environmental Info
Place of Manufacture: Brierley Hill, UK
Environmental Management: ISO 14001 Download Certificate
Quality Management: ISO 9001 Download Certificate
Life Cycle: BRE 'A+' rating
Freeze Thaw Testing to in excess of 400 cycles Download Freeze Thaw Test Certificate >>
Energy: Fired in gas kilns to 1130 degrees
Raw materials: Etruria Marl Clay from our local quarry in Brierley Hill, sand
Lifespan: > 60 years. Second hand tiles that have been on roofs in excess of 100 years often sell for more than new tiles on the 2nd hand market
Recyclability: Can be crushed and used as aggregate and/or as an inert bulk fill
Packaging: We keep packaging to a minimum using wooden pallets. We do not shrink wrap or use plastic straps.
Find out more about Dreadnought Tiles approach to sustainability
Roof Components
BIM
Dreadnought BIM Objects
Request Sample
Classic Handmade Sample Request Form