Case Study - Once Upon a Hill
A project supported by English Heritage, Heritage Lottery Fund and the European Community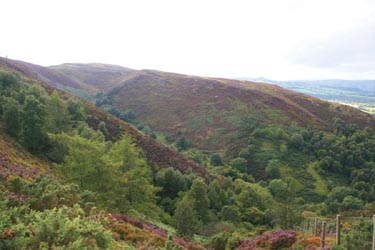 Refurbishment of Davies Cottage, Stiperstone Nature Reserve, Salop
Clay Roof Tile: Staffordshire Blue Classic Handmade tiles
Client: Natural England
Architects: Philip Belchere, Shropshire County Council
Main Contractor: Ian Storey Conservation Building Services Ltd
Background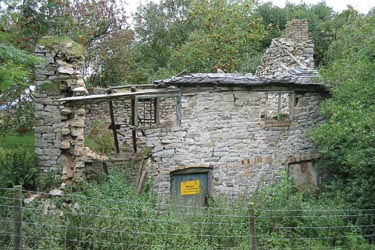 Set high up on a spectacular 10km ridge near Shrewsbury, in SW Shropshire, rising to 536m above sea level is the wild and dramatic Stiperstones National Nature Reserve. Evidence of settlements there and lead mining in the hills above Snailsbeach has been found dating back to roman times. When mining activity was at its peak in the early 1900's, small mining cottages like Davies Cottage at Blakemoorgate began to spring up on the hills. This cottage has recently been restored by Natural England with support from English Heritage, Heritage Lottery Fund and the European Community through a project called 'Once upon a hill'.
Challenge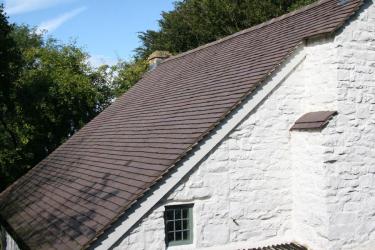 The very isolated moorland position high above the former mining community of Snailbeach made for very difficult access for the contractors Conservation Building Services Ltd. Ian Storey of CBS explains, "we bought a high capacity Landrover 130 to get operatives and equipment up the hill, with all the materials being transported by tractor and trailer. With no access for service providers there was no opportunity for the usual site Portaloo; we acquired a 'Thunder Box' or composting loo, which I am pleased to report surpassed in every respect its modern day chemical counterpart!"
The success of this project depended on sourcing suitable building materials and finding a dark Staffordshire blue handmade tile was a major stumbling block.
Result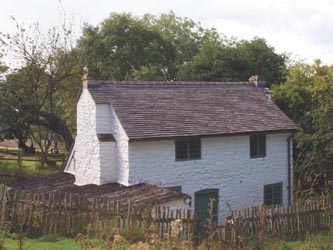 Only one clay tile manufacturer now remains in the UK that has retained the traditional firing techniques to generate true clay colours and a genuine Staffordshire blue roof tile. Dreadnought Tiles based on the same site in Dudley since 1805, still produces their range of colours through careful control of the kiln atmosphere using methods passed on through generations of family management. Identical clay and production methods are used to produce their roof tiles whether it be a Staffordshire blue tile, a red or a multi-coloured clay tile, the difference lies in the introduction of a reduction atmosphere in the appropriate way in the kiln, to convert the iron rich content of the Etruria Marl clay from a ferrous to a ferric oxide in varying degrees.
As luck would have it, Dreadnought were just in the process of re establising their handmade range and their Classic handmade Staffordshire Blue tile was exactly what CBS were looking for. It is a dark tile very similar in appearance to the Dreadnought handmade tiles produced between 1805 and 1984. Its authentic shape and colour have recreated the charm and character of this historic cottage.