Case Study - Private House, Poole
WINNER Clay Roof Tile Awards - "Best Self Build Clay Roof"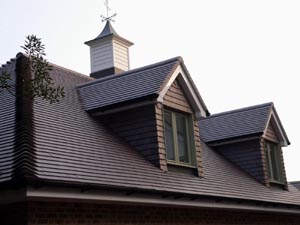 Clay Roof Tile
Dreadnought Blue Brindle Smoothfaced Tiles, Bonnet Hips, Vertical Tiling, Ornamentals
Roofing Contractor
Gillies Roofing
Architect:
Western Design Architects
Background
This is a top quality new house in the highly desirable residential area of Branksome Park, Poole. Constructed of high quality materials throughout and in keeping with the surrounding 1950's architecture however designed for life in the 21st century.
Challenge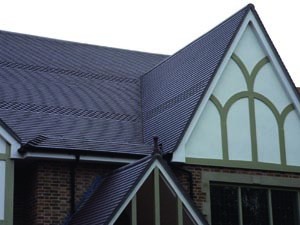 The house is built in a conservation area and the planners there are extremely strict in regard to external materials. Also the design incorporated a great deal of roofing detail and the desire of the owner was that the large potentially monotonous expanses of roof should be broken up with features that create a visual interest.
Solution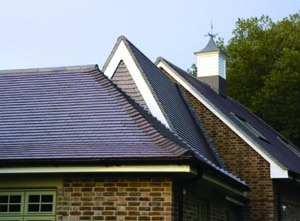 This project clearly demonstrates the versatility of Plain Tiles and their capacity for enabling roofing details to be included such as the staggered outline provided by bonnet hips, the gentle curve of change of pitch of a sprocket and the features and shadows formed by the introduction of dormer windows, differing roof levels and ornamental banding.
On the north elevation, the gable roof pitched at 60° meets the main roof pitched at 40° creating a very substantial pitch difference. The visual impact of a simple open lead valley at the front of the house was not acceptable and this has been avoided by close mitring the tiles above the lead gutter and creating a very neat secret gutter.
On the south elevation, the hip lines on the octagonal roof of the conservatory have been tiled with bonnet hips, which maintain the profile of the bonnet hips on the main roof at high level. The nine course sprocket creates an elegant sweep to the low level roofs and the pitch transition has been accomplished by the adjustment of the tilt of the bonnets.

Comments
Speaking of the roof the Owner said "I have been developing property for 30 years and this is the first time I have used clay tiles. As I was planning to live there myself, I wanted to use the best"! He has clearly achieved this desire to build a fabulous luxury home.