Ground floor extension with arrowhead tiles
Dreadnought ornamental arrowhead tiles in red and red blue blend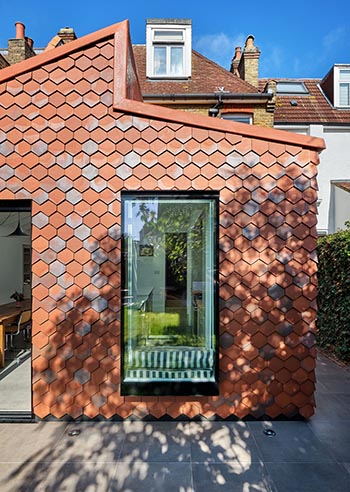 Architect - ABHR_A
Photography - Chun Yue Chiu Photography
This Edwardian terraced house lies within the Conservation Area in Wimbledon and the home owners were keen to create something distinctive for their new extension, but that would still reflect the natural aesthetic of the area. Ornamental arrowhead clay tiles in a blend of red and red blue, were selected to clad the new building to the rear of the property creating a hexogan pattern across the facade.
Architect Alex Bilton explains, "We looked at a range of suppliers for the clay tile cladding and choose Dreadnoughts as we liked the colour range and the texture of the tiles - this along with the range of ornamental tiles offered allowed us to create an original façade that is both traditional and contemporary."
I would also add that the technical guidance that Dreadnought offered was invaluable particularly when ordering and setting out the specials around each opening and the perimeter of the façade. "
The new space features a clerestory skylight in the roof as well as dark aluminium framed glazing within the tile clad walls. The project is a great example of how a highly traditional product can be used very effectively in a contemporary scheme.