All Saints Church -Nocton
Re-creating the original polychromatic diaper roof of this Gothic Revival church with 3,600 Staffordshire Blue Bullnose ornamental tiles, 3,600 Red Blue sandfaced Bullnose tiles and 7,600 Red Blue sandfaced tiles.
Roofing contractor - Kevin Fell, NewLink Roofing, Newark,
Main contractor - Paul Mendham Stonemason Ltd, of Newark
Architect - David Glew, GMS Architecture in Louth, Lincolnshire

Background
When the call came through to Dreadnought Tiles requesting tile samples for a church re-roofing project little did the manufacture realise that the contract would lead to the development of two new product lines aimed specifically at plugging a gap in the restoration market.
All Saints Church in Nocton, Lincolnshire, is the county's finest example of a Gothic Revival church, having been designed by renowned Victorian architect Sir George Gilbert Scott. Quinquennial inspections highlighted the growing need for re-roofing to protect the fabric of the building and important artwork inside.
Scott's design of a polychromatic diaper pattern running across the roofline of the chancel and nave proved a real challenge to replicate with modern tiles. Not only did the roof feature an elaborate arrangement of blue bullnose, red/blue bullnose and red/blue plain clay tiles but the original tiles varied in colour individually and across their face.
Challenge
With English Heritage on board there was a real need to match the pattern and colours as closely to the originals as possible, as Eleanor McEvedy, an English Heritage Historic Buildings Architect explained: "Recreating Gilbert Scott's design was crucial. Finding tiles to match the originals, with their subtle colour variation from red to blue, was a real challenge. Most importantly dark blue tiles (sometimes known as 'Staffordshire Blue') were needed to form the pattern and these were no longer manufactured."
A number of clay roof tile manufacturers supp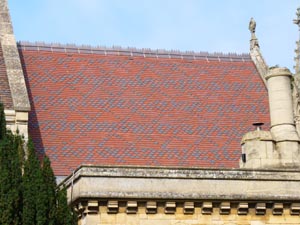 lied samples, Dreadnought Tiles included. Those considered a potential match were installed on test sections of the roof to gauge suitability. It quickly became apparent that only the Dreadnoughts had the capability to deliver the desired aesthetic, and even then it required the West Midlands-based producer to custom-make the dark blue tiles, as managing director Alex Patrick-Smith explained: "English Heritage showed us an example of the dark Staffordshire Blue tile they were looking to match. The colour was similar to that of our Ketley Blue Engineering bricks so we were confident we could achieve the shade required. The dark blue was clearly generated through a reduction atmosphere in a shuttle (closed intermittent) kiln, which matched our production process. Next came a request for a tile with a graduation of colour from red to blue within the tile itself. This was easy to fulfil because we manufacture a red/blue tile as part of our standard range. However this colour was also required as an ornamental bullnose tile and these we had to custom-make to a tight deadline."
Solution
Dreadnought is the only UK roofing tile manufacturer that does not use stains or surface pigments to colour its products ­ colour is achieved by control of the kiln atmosphere. Its Red/Blue tiles, as used on All Saints, probably more than any other, exhibit the characteristics of naturally coloured tiles. The benefits of this approach include a softer, more natural colour that will not fade over time.
Roofing contractor Kevin Fell, of NewLink Roofing, Newark, was equally challenged by the colour variations: "The hardest aspect of the job was getting the colour mixes right within the horizontal and diagonal pattern of the roof," he said. "We had to achieve a random mix of colours for the red/blue plain tiles and red/blue bullnose tiles within the pattern, which required great attention to detail and concentration. But it's been worth it. The new tiles look very good," said Mr Fell, who commended Dreadnought on its 'brilliant' customer service and its 'strong, robust' tiles.
Result
In total Dreadnought supplied 3,600 Staffordshire Blue Bullnose ornamental tiles, 3,600 Red Blue sandfaced Bullnose tiles and 7,600 Red Blue sandfaced tiles. The tiles were fixed using a combination of traditional lime mortar dabs and screws. Dreadnought also manufactured roll top ridges with clay inserts to match originals broken or damaged by frost and wind.
The contract spurred Dreadnought on to creating a new product line ­ it is now producing darker Staffordshire Blue tiles and has re-started production of 11"x7" tiles specifically aimed at the restoration market.