Case Study - Reroofing of the tower at St Ouen's Manor in Jersey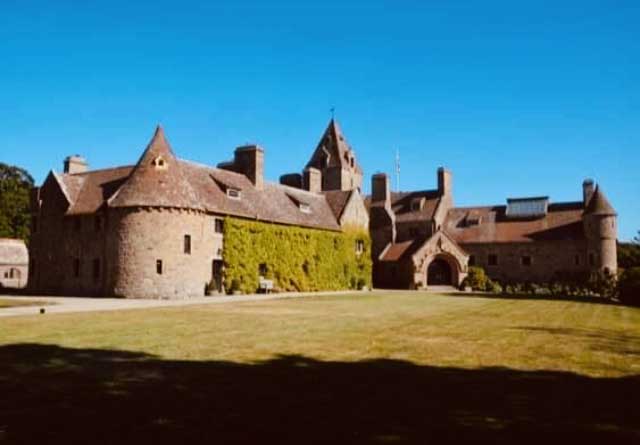 Staffordshire red ornamental arrowhead tiles
Main Contractor: Alex Scott at S & R Roofing Contractors, Jersey
Client: Charlie Malet de Carteret https://www.stouensmanor.com/
Background
St Ouen's Manor in Jersey, grade I listed ancestral home of the de Carteret family has a history that dates all the way to the 12th Century. The house lies on an exposed site close to the huge sandy St Ouen's Bay, and in the 1890's Edward Charles Malet de Carteret invested in a very thorough overhaul of the building and roofs. More than 120 years on, the Dreadnought Tiles laid in the 1890' s were beginning to fail and when current owner, Charlie Malet de Carteret, began researching online to find some replacement clay tiles, he was delighted and amazed to find that he could still purchase the very same Dreadnought Tiles that his great grandfather had installed all those years ago.
While Dreadnought's factory today is very different to how it was 120 years ago, their focus to manufacture authentic Staffordshire clay building products that will last remains unchanged. They have maintained their traditional single camber shape and natural fired clay colour which is generated by controlling the kiln atmosphere and as a result Dreadnought tiles are often specified by heritage professionals on listed buildings and other sensitive conservation projects.
Challenge

The tower at St Ouen's Manor is particularly steep, around 80o and in line with the other elevations on the house, it is tiled with ornamental arrowhead tiles. The owner's objective was to recreate the original pattern, which used a combination of arrowheads with external angle tiles, with both left and righthanded corners. While Dreadnought were happy to make the external angle tiles, they were bespoke products that would need to be specially made to the right size and pitch. Alex Scott from S & R Roofing Contractors proposed a faster and less costly solution, using mitred tile and a half tiles. "Each tile and a half tile had to be cut individually with each tile sat on an angle to cut, and the back edge "shaved" with a grinder to get the mitre as tight as possible", he explains. "We installed soakers under each mitre and in order to maintain the central perpendicular line of arrowhead tiles all the way up the tower, we had to use different sized cuts next to the mitred tiles."
Result
Charlie Malet de Carteret comments, "we are very pleased with the result, and although the tiles do look considerably newer without the lichens than the ones that were on previously, we can be confident that they will last, and their shape and colour are consistent with the originals which were made in the same factory over 120 years ago. S & R Roofing have undoubtably done an excellent job of preserving the pattern on the tower and it won't be long before the new tiles gather their own lichen and become weathered into the rest of the roof."