Case Study - Private House, Greens Norton
Clay Roof Tile: Dreadnought Trafalgar Blend
Architects: David Coles Architects
House Builder: Dean Manning
Background
The owners of this house visited the Self Build Exhibition at the NEC in 2003. One of the objectives was to source the roofing tiles for their new house.
As they were building in a conspicuous elevated position at the top of a hill, they were aware that the house would be prominent from the road in both directions. It was important to them that the house should look well established as soon as possible. They were seeking a truly natural appearance and one that would blend with the surroundings.
Challenge
On the Dreadnought stand the owners saw a photograph of a house with a roof of multi coloured sandfaced tiles in precisely the natural shades they had envisaged. Unfortunately, the house in the photograph was located in a remote country lane near Bridport in Dorset, and was a blended mixture of several sandfaced colours. To confirm the accuracy of the photograph and view the actual roof, they travelled from Towcester to Dorset!
Solution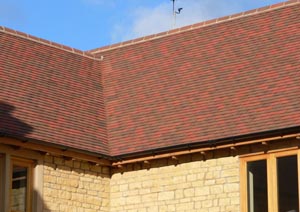 The walls of this house were of an even coloured stone and the facades were of a similar Georgian Gable to Gable style. Their visit confirmed their decision to select a mixed Blend of Sandfaced tiles. Because these are random, burnt clay colours, which occur naturally in a controlled kiln atmosphere, they blend together without looking contrived. This is not the case when stained artificial colours are put together. The local cream limestone in the random stonework is of a predominantly even colour and the multi colours in the roof compliment it well. The garage walls and boundary walls are brickwork in "Old Himley" which give a similar colour effect to the roof tiles
Result
The strongest case for clay tiles has always been aesthetics. This is the main reason that discriminating designers, specifiers and property owners use them. These visual qualities are instantly recognisable; they set the tiles apart from non-natural material. It is not surprising therefore that mixing of natural burnt clay colours becomes increasingly popular. The blended multi colour effect is unique to clay products and proclaims that this is a high quality building. It is a statement that will be evident for the life of the building.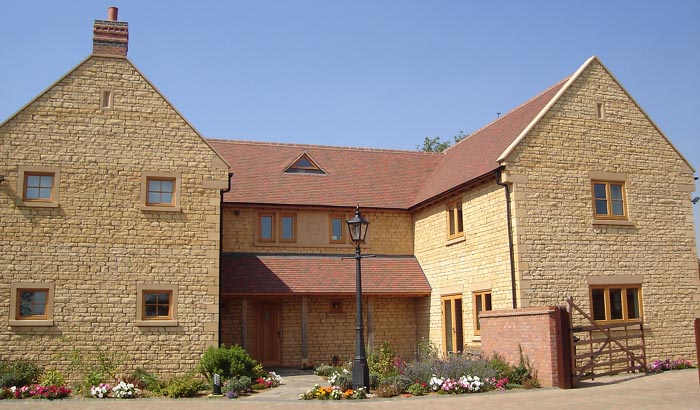 Dean Manning of Manning Construction is rightly proud of this house. "Because of its prominent position I do receive a lot of comment and it is all favourable. I feature it on my website. The job was trouble free and the valley tiles fitted easily and well".