Case Study - Reroofing a collection of old buildings to create 7 unique luxury homes in Alrewas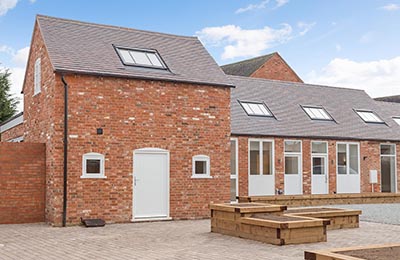 A mixed blend of Dreadnought Staffordshire blue sanded and dark heather tiles
Architects - Alrewas Architecture and Fleming James Architects
Sidley Piper Homes
Home Farm in Alrewas, Staffordshire, is a new development by Sidley Piper Homes. It is made up of 3 old buildings, one grade II listed that dates back to the 18th century. With the help of Alrewas Architecture and Fleming James Architects, Sidley Piper have created 7 unique luxury dwellings all with original features and bags of character. The old roofs had been in a very poor state, they were originally a red clay tile though like many old buildings, they had been patched up over the years, the buildings had evolved considerably and been extended and remodeled, and a variety of different roof tiles had been used, some even concrete.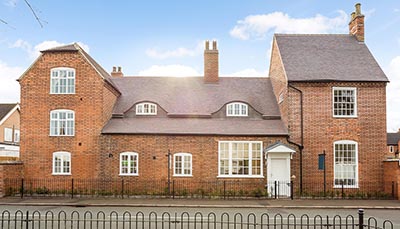 Debbie Glancy from Alrewas Architecture ideally wanted to reuse the original materials, but soon realised that it wasn't either cost effective or even viable, as too many needed replacing. There are a lot of Staffordshire blue clay roof tiles in the village, and Debbie is familiar with Dreadnought's range having used their Staffordshire blue smooth tiles on her own property a few years ago. Home Farm lies within the conservation area, and Ed Higgins, Conservation Officer at Litchfield County Council, wanted to see more colour variation on the roof to replicate the sort of colour variation that tiles in the 19th century would have had. He selected a mix of Staffordshire blue and dark heather tiles.
It is an interesting roofscape with multi levels as well as 2 eyebrow dormers and Liberty Roofing have done a wonderful job of mixing the tiles. The variations in tone bring the roof alive and sit well with the old brickwork.